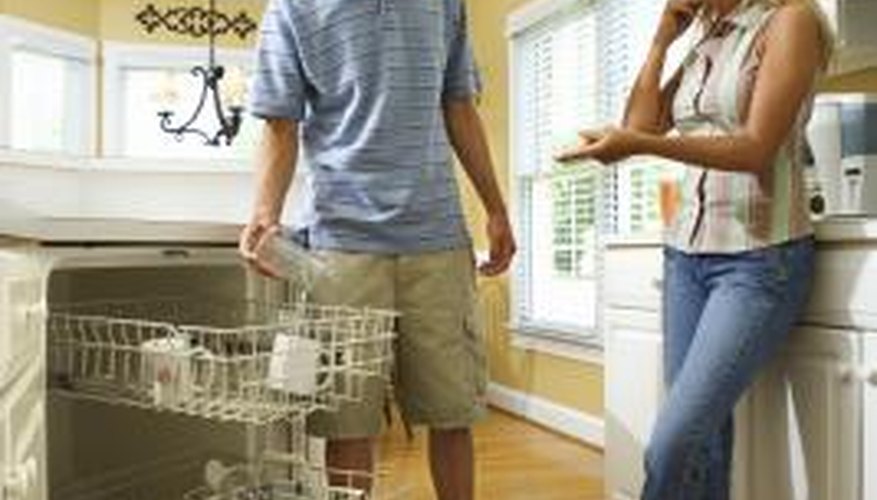 Sears doesn't actually manufacture any dishwashers, but instead puts its brand name on dishwashers produced by several manufacturers including Kenmore, Amana, GE, Whirlpool and Toshiba. With a variety of manufacturers providing their products, the dishwasher troubleshooting codes and meanings may differ. Check with the actual manufacturer for your Sears model or your owner's manual for exact information.
Step 1
Replace a burnt heating element or thermostat if "F1" is displayed as the troubleshooting code. This code often means that the water is not reaching the selected temperature in time because of a part malfunction. This code may be displayed as "F3," "C1" or "C6" in some Sears dishwashers.
Step 2
Unclog the water pump or replace the water inlet valve to remove the code "F2," "C1," "C2," "FE," "F8," "F9" or "1E." This code often indicates that either the bad pump or valve has allowed too much water in the tub. A code of "C5" means the valve is not allowing enough water into the tub; this is usually caused by low water pressure.
Step 3
Open the thermistor or replace the element along with its wiring if the codes "F3" or "bE" are displayed. This code represents a thermal error and can cause the inlet water temperature to be too high.
Step 4
Remove excess water from the tray if "F2" or "F4" appears. Stop power to the dishwasher, then remove the lower access panels to gain access to the lower tray. Sop up any water located in the tray with a towel or sponge. Make sure the float is functional and the drain hose is properly and securely connected to the underside of the countertop and drain.
Step 5
Unblock the drain line if code "C2," "F4" or "OE" is displayed. If a new garbage disposal was recently installed, remove its knock-out plug to allow the dishwasher to drain. Otherwise, check the drain valve for any restrictions or kinks.
Step 6
Remove the door panel and replace the sensor located inside the door if code "C7" appears. If the sensor is bad, it will not read the temperature of the water.
Step 7
Remove any obstructions from the detergent cup if "C8" is displayed. Place tall dishware such as plates away from the detergent cup. Remove obstructions from in front of the spray arm if code "F5" is displayed, which often indicates that the spray arm is blocked.
Step 8
Replace the dishwasher motor, control board or fix the wiring if the code "LE" is displayed. This code indicates that there is a motor error which could be caused by a number of faulty parts including a locked impeller, rotor or blade. It could also be the result of bad wiring connections.
Step 9
Push the "Cancel" button to clear the control board after a power failure. A power failure is sometimes indicated by a "PF." If this code persists, there could be issues with the electrical wiring.