How to Adjust the Blade on an Andis Pivot Pro Edger
Andis Pivot Pro hair clippers enable you to cut your family's hair from home and save money on the cost of professional haircuts and stylings. Adjustable blades allow you to make fine, short cuts as well as coarse, long cuts in quick succession, which is useful for creating more complex hair styles. Exactly how you adjust the blades depends on the model you own. Some versions have a lever to speed up the adjustment process.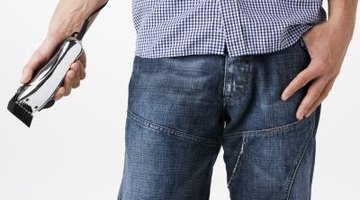 Step 1
Unplug the clippers and locate the adjustment lever on the side of the unit. Place the flat top edge of the cutting blade on a flat surface. This makes it easier to understand the different positions of the adjustment lever.
Step 2
Raise the plastic lever to the vertical position to set the trimmer to the shortest possible setting. Move the lever downward to achieve longer cuts. In its lowest position the blade makes the longest cuts possible.
Step 3
Remove the pair of Phillips-head screws on top of the trimmer and detach the current blade if your model does not have an adjustment lever. Place a different-grade blade in position and replace the screws without over-tightening to make a different-length cut.