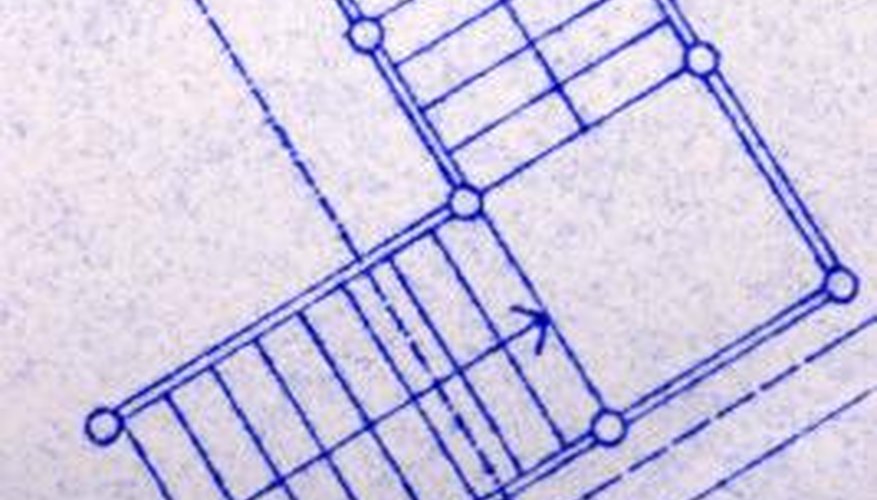 Structurally, it's easier than converting the other way around, but zoning and building regulations apply when substantial changes to construction and the use of the building are proposed. Both "before" and "after" floor plans are usually required to apply for a permit to convert a building. Existing floor plans can be used for reference when sketching the proposed changes. Most building officials can assist with construction details, but the floor plans will describe the project and ease the process for the application and the subsequent work.
Step 1
Check with local building officials to ensure the proposed conversion complies with zoning for the area. Find out specific requirements for submitting floor plans, such as format and number of copies.
Step 2
Prepare floor plans for each level of the house, with reference to existing floor plans. Use the same scale as the original plans.
Step 3
Lay the existing floor plan on the table. Tape a piece of masking tape to each corner to keep them from shifting. Place trace paper over the floor plan.
Step 4
Use the pencil for drawing, the T-square for horizontal lines and the triangle for horizontal lines or angles. Draw the outline of the foundation walls, interior and exterior walls, windows, doors and location of stairways.
Step 5
Show where walls will be removed, and new walls built. Indicate changes to doors, windows and floor openings.
Step 6
Draw a dashed outline where an additional kitchen will be removed. Sketch the arrangement of cabinets, stoves, refrigerator and sink for the remaining, or proposed, kitchen.
Step 7
Transfer the sketch to mylar or vellum paper. Repeat the process for every floor of the house, including the basement, first floor, second floor and attic, as needed.
Step 8
Label each room by name, and designate the room dimensions. Add notes to the construction information, such as where a wall will be removed or built.
Step 9
Add a title block at the right-hand side of the drawing, with your name, address and phone number. Call the conversion drawing "After," and the existing floor plans "Before."
Step 10
Photocopy or print at least two copies of the floor plans. Submit as required for approval, or for cost estimates.
Things You Will Need

Existing floor plan
Square table or drawing board
Masking tape
Trace paper
Mylar, vellum or bond paper, 11 by 17 inches, or larger
T-square
Triangle
Architect's scale
Pencils, 4-H, 2-H and H, lead or semiautomatic type
Photocopier or printing service
Tip
If existing floor plans aren't available, a set will have to be assembled for reference for the conversion.