How to Quiet Sliding Metal Doors
Sliding doors don't actually slide; they glide along a track on rollers. When the track and the rollers function well, the door moves easily. When the track or rollers are in poor repair, sliding the door is difficult and the movement is noisy. Common causes of a noisy metal door are a dirty track and dirty rollers. Try cleaning the track first. If that doesn't reduce the resistance and quiet the noise, clean the rollers. Worn or damaged rollers should be replaced.
Clean the Track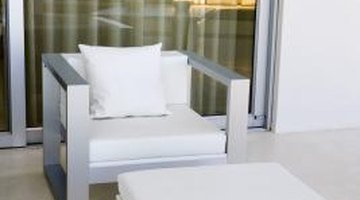 Step 1
Open the door all the way to expose to the track.
Step 2
Remove obvious impediments to the door's movement such as dirt, pebbles and other debris.
Step 3
Apply a generous coating of denatured alcohol to the length of the track.
Step 4
Let the alcohol sit for a moment to loosen the grime.
Step 5
Wipe the grime out using paper towels.
Step 6
Repeat this process until the track is clean.
Step 7
Spray a coat of WD-40 or another lubricant along the length of the track.
Clean or Replace the Rollers
Step 1
Remove the head stop screws that secure the door in the top track.
Step 2
Adjust the roller adjustment screws at the bottom of the door to retract the rollers.
Step 3
Lift the door into the top track so that the bottom of the door clears the bottom track.
Step 4
Work with a partner to inch the bottom edge of the door toward the outside. Lower the door and remove it. Lay the door on a padded surface or set it across two sawhorses.
Step 5
Remove the roller adjustment screws. Pry the rollers out with a screwdriver. Inspect the rollers. If they appear worn or damaged, replace them. Otherwise, clean and lubricate them.
Step 6
Remove debris that might impede the rollers' movement. Clean the rollers with denatured alcohol using paper towels. Lubricate the wheels by spraying them with WD-40.
Step 7
Replace the rollers with the clean originals or with a new set.
References
Writer Bio
Daria Kelly Uhlig began writing professionally for websites in 2008. She is a licensed real-estate agent who specializes in resort real estate rentals in Ocean City, Md. Her real estate, business and finance articles have appeared on a number of sites, including Motley Fool, The Nest and more. Uhlig holds an associate degree in communications from Centenary College.
Photo Credits
Goodshoot/Goodshoot/Getty Images
More Articles