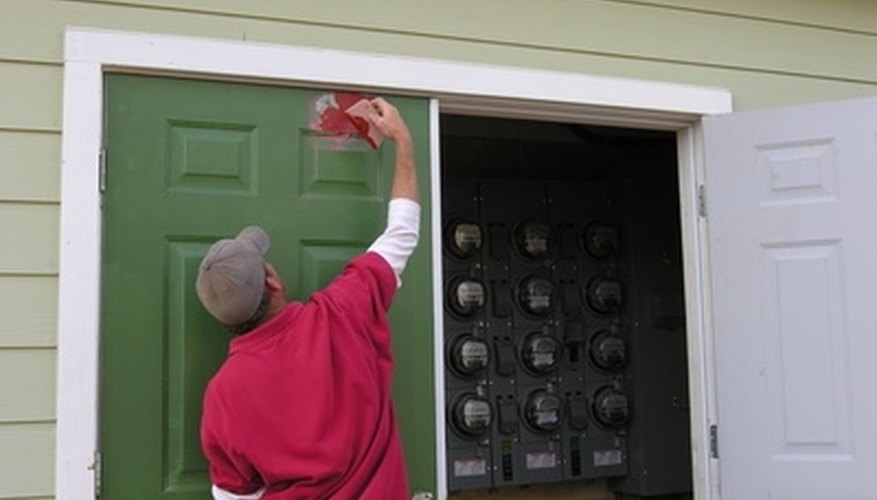 Painting a door is easier than painting an entire room, but as with any good job, quality is in the details.
Remove or tape over the doorknob, the strike bolt and the hinges.
Take the door off its hinges and lay it across two sawhorses or a table to paint. (You can paint it as it hangs, but you get a better effect if you take it off its hinges.)
Check for cracks and holes, and fill with putty. For really big problems (like a hole where a security lock once went), fill with an epoxy filler (such as Bondo brand) - the same stuff that's used on car bodies.
Apply a coat of primer if you're down to a raw surface. Allow to dry.
Apply one or two coats (depending on how well it covers) of semigloss or glossy paint; they're the most durable and easiest to clean.
Paint in even strokes with a high-quality brush, perhaps one with a tapered end.
Things You Will Need

Angled Paintbrushes
Masking Tape
Paint Trays
Paints
Body Compounds
Primer Paints
Primers
Ladders
Putty
Putty Knives
Sandpaper
Screwdriver Sets
Paint trays
Tips
Paint the jambs (the area the door closes into) first, the trim around the door next, and the door itself last.

If you have a drip of paint that gets too dry to spread, let it dry all the way, then sand it down and paint over it.

On exterior doors, be sure to paint the top and bottom edges, even though you can't see them. This will help protect against rot and swelling.

Don't use a roller on a door, even if it's perfectly flat. It's just not a good look.