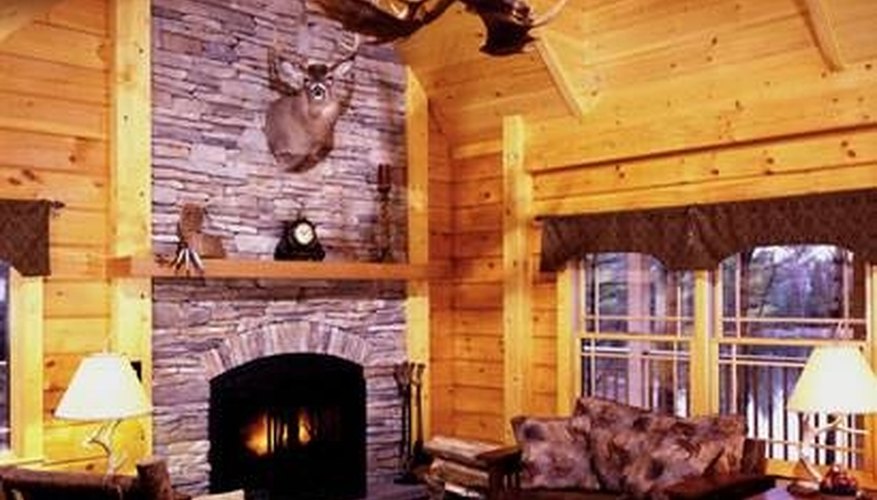 With so many different types of stone available, you can create a beautiful masterpiece in just a few days. Converting a fireplace to stone shouldn't be a difficult process and with the right amount of guidance, anyone can do it. If you are thinking about refacing your fireplace with stone, and you need a few pieces of advice, read through the following steps, and soon you too will be admiring your own gorgeous handiwork.
Measure your walls to determine how much stone you will need. Purchase all supplies: Stone, moisture-resistant barrier, metal lathe, and mortar. Gather together the tools you will need.
Remove all trim and fireplace doors. Place the vapor barrier on the wall with a staple gun. Attach the metal lathe to the wall using 1 1/2-inch roofing nails. Tape the edges and cover the floor and fireplace opening with plastic.
Add water to type N pre-mixed mortar and mix until it is firm yet not too dry. Using a trowel, cover the wall and mesh entirely with mortar. Let the first coat dry overnight.
Starting with a corner stone, apply mortar completely over the backside, place it on the wall and hold it steady and firm for about five seconds. Wiggle it a bit to make sure it is set, then slowly remove your hands. Repeat the process, one stone at a time.
Fill a grout bag with mortar and squeeze the mixture into all the joints. After the mortar is almost set, about 2 hours, use a 1/2-inch tuck pointer to clean off all excess. Continue crumbling the mortar away until the edges of the stones appear.
Wipe away all loose mortar using a small whisk broom.
Things You Will Need

Stones Vapor Barrier Plastic Covering Metal Lathe N Type Pre-Mixed Mortar Mason's Trowel Finish Trowel Staple Gun Hammer 1 1/2 Roofing Nails 1/2 Inch Tuck Pointer Grout Bag
Tip
Mix your mortar according to manufacturer's directions. The mortar can't be to runny or to thick. It must be just right. When placing your stones up on the fireplace wall, mix them up so that a thin stone is placed next to a thick stone and light is alternated with dark. This gives your fireplace character. Before you place the stones on the wall, lay them out on the floor and create your design. This will save you time when you are ready to place your stones.