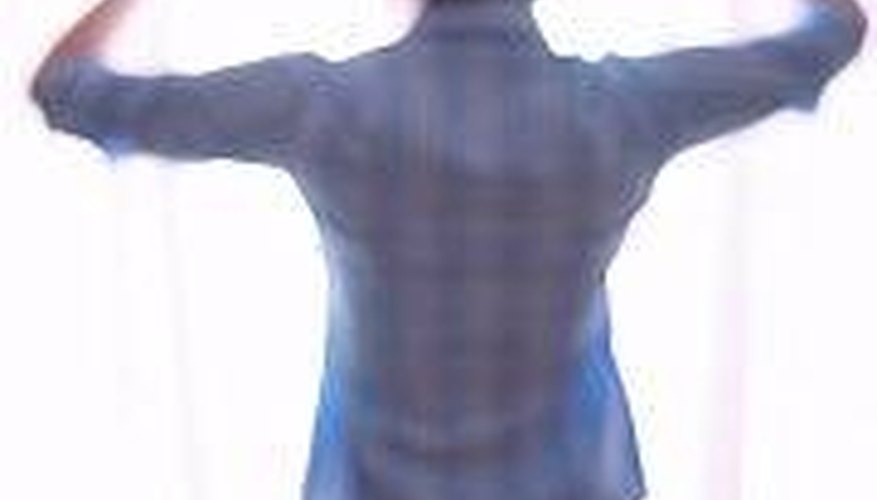 The draping of the scarf, not only adds a finished touch, it accents a decorative pole. Hang them symmetrical for a balanced look, or hang them asymmetrical for an interesting and dramatic look. Pick from solids, patterns, cottons, polyester, soft white and sheer eggshell. Whichever choice you make, the window scarf will complete the look in your decor.
Attach the decorative rod, sconces, or scarf holders. Window scarves can drape over decorative rods, hang from window sconces, or drape through scarf holders. For wide windows, consider the decorative pole, so you can loop the scarf and create two swags. For narrow windows, scarf holders or sconces are all you need.
Lay the scarf out. Before attempting to put up the scarf, lay it out on the floor lengthwise. Begin to fold the scarf in accordion pleats, which are 4 to 6 inches deep. As you fold, slightly crease the fabric with your hand.
Mark the scarf. Place a binder clip or fabric pin at the center of the scarf and the corners. This will help you center the scarf when you place it on the rod or holders. The corners are for the location of the scarf holders or the ends of the drapery rod. Mark the center of the window.
Center the scarf. Using a stepladder, match the center of the scarf with the center of the window. Taking the left side, slip the scarf through the left scarf holder or sconce, or drape it on the drapery rod. Move to the ride side and do the same using your pins or binder clips as a guide.
Pull on the center. Once you have draped the scarf over the rod or through the scarf holders, pull gently on the center of the scarf. This will create a soft swag.
Things You Will Need

Drapery rod Stepladder Scarf holders
Tip
Consider two scarves in different colors for a layered effect.