How to Make a Tree Mural
If the only thing that looks lonelier than your empty wall is your checkbook balance, consider investing a few bucks and a bit of time to create a spectacular tree mural. You don't have to stop with one tree. If you can afford the materials and the time, you've got everything you need to figuratively plant an entire forest in the room of your choosing. Bedroom. Living room. Nursery. There are several ways to paint a tree mural, but the one this article details is the easiest of the bunch. Schedule your metaphorical tree building for a weekend and you'll be able to show it off on Monday. A poet once wrote that only God can make a tree, so you're welcome to call upon Him for moral support as you work your own creative miracles. As a bonus, no watering or fertilizing will ever be required.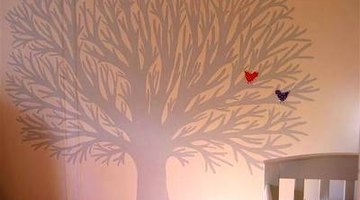 Search the Internet to come up with patterns or stencils of tree trunks. These paper patterns are designed to scale and they're easy to transfer to the wall. Conversely, if you believe that paper patterns and transfers are for crafting sissies, grab a pencil to sketch out a tree and branches on your wall. Alternately, take the middle road: Use an overhead projector to transfer a picture of a tree trunk and branches to the wall and then trace it.

Craft leaves for the tree by making a stencil or pattern of a leaf using acetate sheets or heavy cardboard. Trace the leaf shape onto wallpaper, foam sheets, fabric or a material of your choice. You can even use your computer to make leaves. Use your favorite software's draw tools to shape leaves and print them out.

Don't skimp on leaf production. A tree that stretches nearly as high as your ceiling is likely to require around 100 leaves. It's better to be safe than sorry by making at least that many. Use a scissors to cut out the leaves or for a more festive edge, use pinking shears or scrap booking trimmers. Your tree. Your choice.

Choose a rich brown acrylic paint for your trunk and branches and fill in the lines you created in Step 1. Experiment with touches of lighter brown to create the appearance of bark and other texture. If you don't like some of the touches you've added to give the tree a more realistic look, paint over them with the original brown acrylic paint.

Allow the tree trunk and branches to dry overnight, then see how the color, shape and detail look in the morning, afternoon and evening light. If you're satisfied, you're ready to add the leaves.

If you've used pre-pasted wallpaper, dip each leaf into water before securing it to the wall. Alternately, brush wallpaper paste on the back of the foam, wallpaper or fabric leaf cut outs. Arrange the leaves randomly on and around the tree. Overlap and scatter some; add realism by sprinkling a few on the "ground" so they appear to have fallen. You can also twist, fold and bend leaves for an ultra-natural look.

Add custom touches. Use a permanent marker to outline each leaf so there's high contrast between the tree and the background. Alternately, affordable, adhesive-backed foam flower shapes turn an ordinary tree into a festival of blooms. This is the point at which you can experiment, have fun and let your creativity blossom.
Resources
Writer Bio
Based in Chicago, Gail Cohen has been a professional writer for more than 30 years. She has authored and co-authored 14 books and penned hundreds of articles in consumer and trade publications, including the Illinois-based "Daily Herald" newspaper. Her newest book, "The Christmas Quilt," was published in December 2011.
Photo Credits
More Articles