How to Build a Wood Privacy Fence
Instructions for building a wood privacy fence, including setting posts, installing railings and slats and installing the gate.
A privacy fence does more than simply keep people out -- it defines your property line, protects your landscaping from stray animals and provides a backdrop for some of your landscaping features. You have a couple of tasks to accomplish before building one, including choosing a style, comparing prices and shopping for lumber. Building the fence is a good weekend project for you and your family or friends.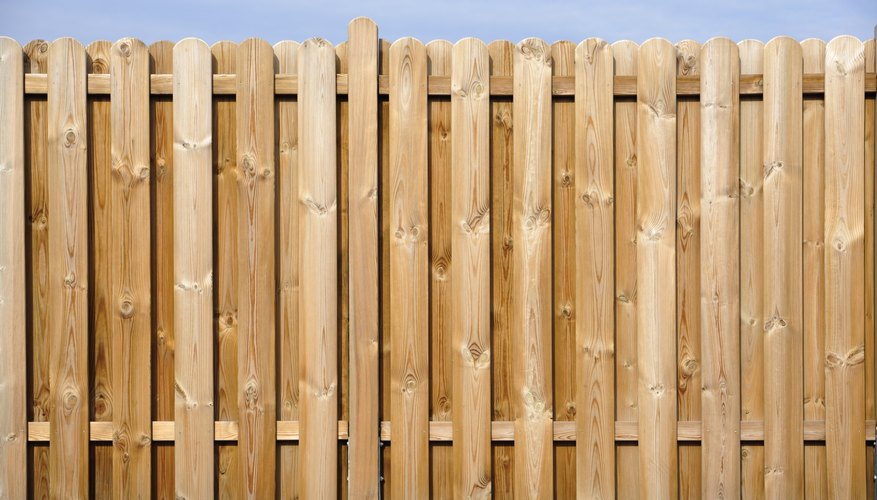 Before You Start
Taking care of a few details before you start building can save much grief later.
Find out where your property lines are. Encroachment may not bother your current neighbor, but you can't be sure the next one will be as amenable. 
Consider your style options and price each one. Board-on-board is the most common style, but you may also consider one with butting vertical or horizontal slats or a  board-and-batten design.
Check the local ordinances that regulate fence height and style to make sure your plans don't violate any. 
Call 811 to get information about buried electricity and telephone cables and water pipes.
Setting the Posts
The posts are the backbone of the fence, and they must be strong, especially to support a heavy privacy fence in high winds.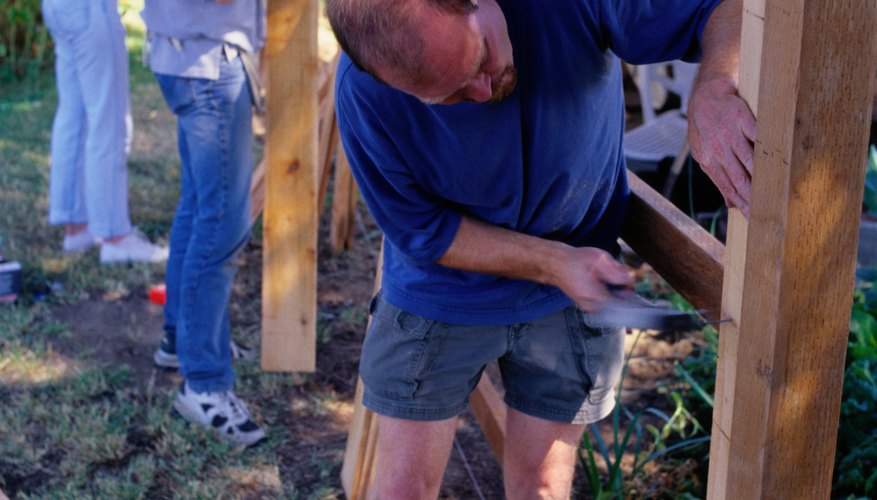 Lay out the perimeter of the fence with a string and space the posts slightly less than 8 feet apart to prevent sagging. The spacing may have to be less when you install the gate posts or come to a corner of the fence. 
Dig holes with a post hole digger and shovel. They should be deep enough to bury each post for one-third of its length. For example, if the final height of a post needs to be 8 feet, you need to bury a 12-foot post 4 feet in the ground. 
Use pressure-treated four-by-fours for the posts and set each one in concrete. 
Dig each hole an extra few inches deeper than you need so you can pour in gravel for drainage.
Installing the Rails and Slats
You need a top and bottom rail between each pair of posts. Use rough-sawn redwood or cedar for best weather tolerance. If you use non-pressure-treated pine or fir, keep in mind you must paint it, or it will quickly deteriorate.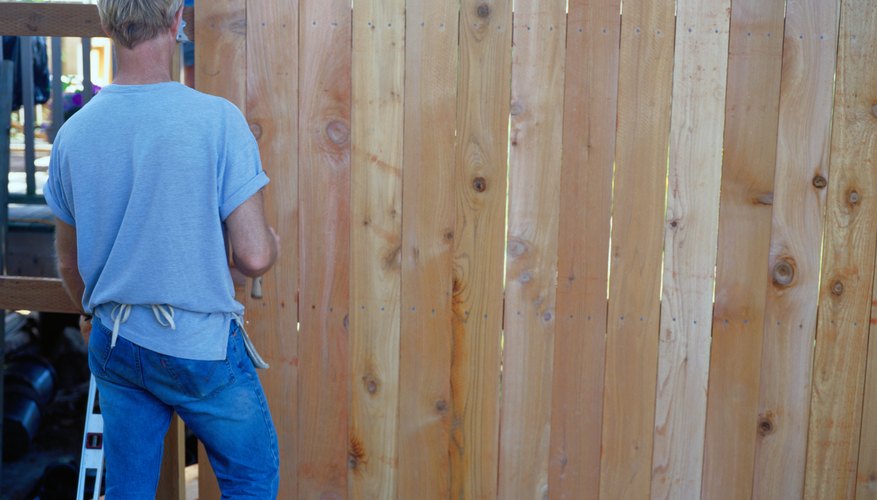 Measure the distance between each pair of posts with a tape measure and cut each rail to the proper length with a circular saw.
Screw the rails to the posts with 3-inch exterior-grade wood screws. Use a level to make sure each rail is horizontal, and space adjacent rails on the same post the same distance from the ground.
When installing the slats on a board-on-board design, aim for a 1- to 2-inch overlap. The smaller the overlap, the less wood you'll need, but a large overlap provides more privacy.
Use a level to check for plumb on each slat and to level the top with that of the adjacent slat before you attach it.
Attach each slat with 1 5/8-inch exterior wood screws. Drive two screws into the top rail and two into the bottom. 
Constructing the Gate
The gate should fit snugly between the gate posts with about 1/2 inch to spare. It helps to construct the frame on the ground, hang it on hinges and fine-tune it before affixing the slats.
Start attaching slats on the outside edge of the gate. If you have to trim the last one to make it fit, it will be on the hinge side, where it isn't as noticeable. 
Attach the latch and handle last, once you're sure everything fits and the gate swings freely.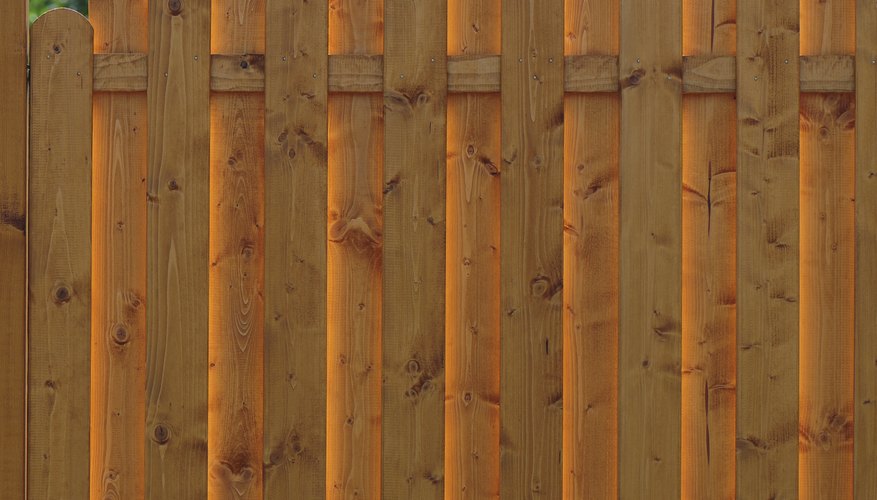 Things You Will Need
Tape measure
Wood slats
Wood posts
Post hole digger
2-by-4 boards
Hammer
Nails
Wood stain