How to Remove Steam Radiators
People living in older homes with steam heating systems enjoy uniform heat that's superior to many modern systems. Steam radiators are big and bulky, however, and removing them to install new flooring or paint a wall can be challenging. If you have a pipe wrench, dolly and a strong friend who doesn't mind helping, the job is not too difficult.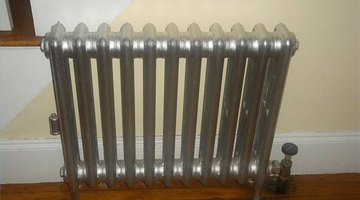 Turn off the steam supply. Close the supply valve to the radiator by turning the hand wheel in a clockwise direction.

Place a rag or towel under the valve end of the radiator. Use a medium-sized pipe wrench to loosen the nut between the radiator and supply valve. Turn the nut counterclockwise until the threads are completely disengaged. (The nut will not come off the pipe.)

Lift the radiator slightly and slide it away from the valve.

Lift the radiator onto the moving dolly and roll it away from the work area.
Warnings
Radiators are very heavy so be very careful when lifting them. Don't try to do this alone. For safety, remove the radiator from the dolly and place it away from children's play areas.
Writer Bio
K.K. Lowell is a freelance writer who has been writing professionally since June 2008, with articles appearing on various websites. A mechanic and truck driver for more than 40 years, Lowell is able to write knowledgeably on many automotive and mechanical subjects. He is currently pursuing a degree in English.
Photo Credits
More Articles