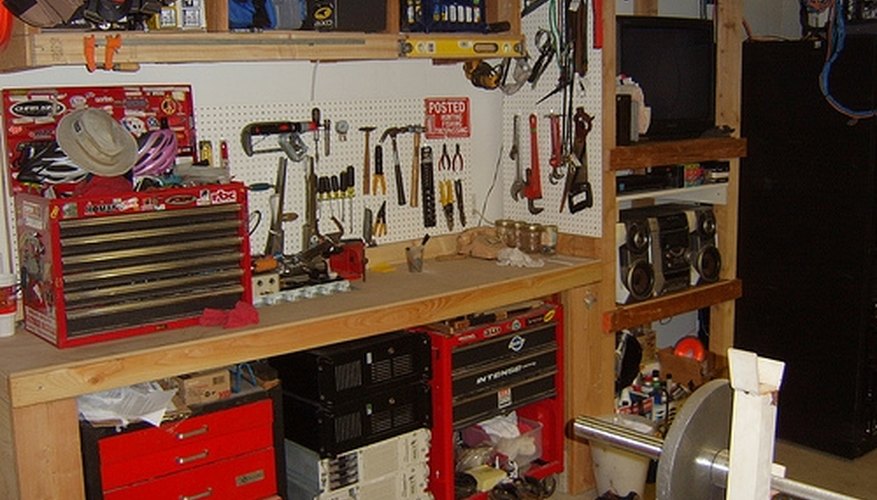 In addition to a large, clean, well-lighted workspace, a good workbench will have several places to store things. Although shelves can store many things, drawers can be much better for storing smaller or more valuable items.
Cut the frame for the bench using 2-by-4 inch boards. Drill holes in the ends of the boards and insert a screw into each hole and screw the adjoining boards together. Use at least two screws for each joint. If you are using a 4-by-8-foot sheet of plywood for the top, then make a frame of the same dimensions going around the underside of the table. Insert braces in the table that are the same length away from the ends as the width of the drawers.
Fasten the legs to the table, using 2-by-4 inch boards as legs and screws for fasteners. Put the top onto the frame and nail it down into the wood. The bench is now half-finished, and should stand levelly on its own.
Cut the side boards for the drawers and screw one of them onto one of the legs. If you are planning to put drawers on both sides of the table, then attach a board to the front leg on each end so that the boards are flush with the front of the table.
Build the drawers to the size you want, cutting 1-by-4- inch pieces of appropriate length for the sides and quarter-inch plywood for the bottom. Fasten the sliders and wheels onto the sides per the instructions included with them. Fasten the other boards to the middle braces in the table described at the end of Step 1.
Nail a back onto the side boards that are attached to the braces and ends. Screw addtional braces on to the bench legs at floor level so that one side of each set of drawers is attached to the table on the top and bottom.
Insert the drawers into the boards, attaching the slots per the directions. When you are done, you should have one or two complete sets of drawers attached to one or both undersides of the table.
Things You Will Need

2-by-4-inch beams
Sheet of plywood, 1/2 to 1 inch thick
1-by-4-foot, 1/4-inch plywood for sides
One-fourth-inch plywood for the bottom
1-foot boards that are as wide as the drawers are deep
Screws
Nails
Drawer slots and wheels