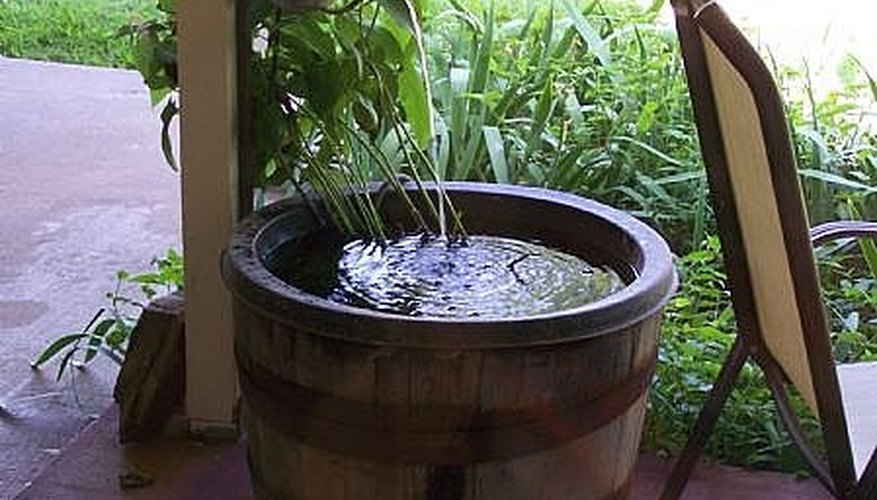 With just a few supplies you can turn your patio into a nice outdoor retreat.
Begin by deciding upon the placement of your fountain. Placing the whiskey barrel near an existing wood pole on a patio is ideal as you will see later in the article. A shady spot under a covered patio is a good spot. Place a couple of chairs nearby so that you can have a relaxation spot.
Set the whiskey barrel in the desired location.
Place the whiskey barrel liner into the whiskey barrel.
Purchase a small pond or fountain pump that will handle 50-80 GPH or gallons per hour. These can be found at Lowe's in the $20 - $25 dollar range. Place the pump into the barrel liner and connect the tubing. A pump this size will usually call for 3/8" rubber tubing.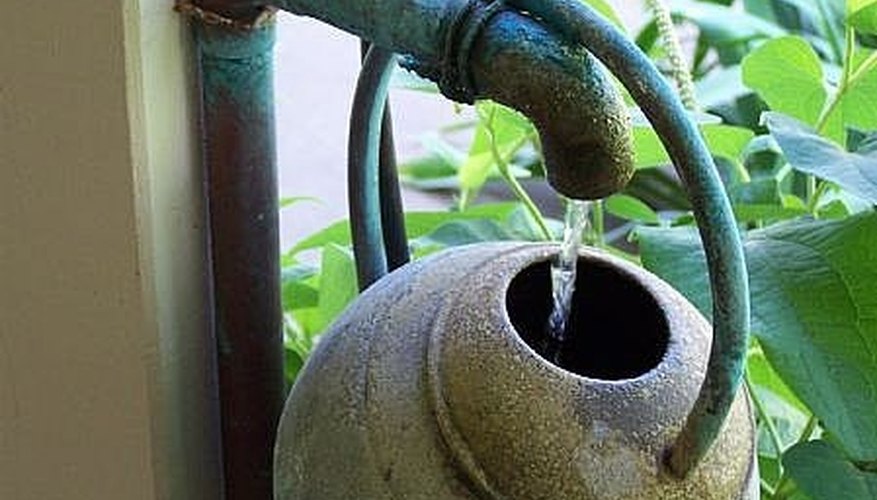 Assemble your copper pipe and elbow pipe fittings so that it looks like the picture. The pipe should be plenty long. I cut ours at 32" for the long part and another 5 - 6" to fit between the elbow fittings.
Run the tubing up through your copper piping. It may be easier to disassemble the elbow fittings and run your tubing then reconnect the fittings as you go.
Once your tubing is through the pipe, you can hammer the 1 1/16" cable staples into the wood pole to hold the copper pipe still. If your anchor pole is something other than wood, you could use wire to affix the copper pipe to the anchor pole just under the top crook of the pipe and another wire to hold the bottom in place.
Now affix the tea kettle to the top of the copper pipe with wire. Make sure the water is going to make it into the kettle and that the water will not splash out the sides. You should have a straight stream into the kettle.
Fill the whiskey barrel with water. Then plug the pump into electricity. Wait for the kettle to fill with water before spilling over into the barrel. Check the stream. Add water plants, maybe some fish and enjoy!
Things You Will Need

whiskey barrel half
whiskey barrel liner
small fountain pump with tubing
some sort of spout - watering can or copper teapot etc...
appx 38" of copper pipe large enough in diameter for pump tubing to fit through
2 copper elbow fittings that connect to your copper pipe
copper wire
2- 1 1/16 cable staple
hammer
electricity
water
water loving plant
Tip
You may need to refill the barrel with water occasionally.