How to Secure a Goose Decoy to a Pond Irrigation Pipe
A decoy goose can be used to lure ducks and geese to land on a pond. Irrigation pipe running through the pond is the perfect place to secure the decoy so that it stays in the open water. Decoys can be blown by the wind and end up in less inviting places for waterfowl. Geese land where they instinctively feel safe from predators and a goose close to the edge is an easier target for predators. Decoys have a weighted rudder that sits below the water line. This rudder has a hole in it to allow you to attach an anchor string.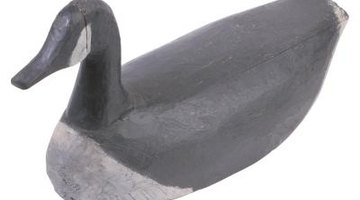 Hook one end link of the chain to the carabiner.

Hook the carabiner through the hole in the rudder of the decoy. The chain should hang down from the carabiner.

Hook a second carabiner to the opposite end link of the dangling chain.

Hold the carabiner and wrap it and the chain down around the irrigation pipe and back up to itself.

Hook the carabiner back to one of the links in the chain so that the decoy can float buoyantly on the surface of the pond.
Tips
Adjust the chain depending on the level of the pond.
Warnings
You may have to get wet to accomplish this task. Wear a personal floatation device to avoid drowning.
Photo Credits
Hemera Technologies/PhotoObjects.net/Getty Images
two intersecting chains image by Slobodan Djajic from Fotolia.com
carabiner image by jimcox40 from Fotolia.com
More Articles