How to Tie Down a Carport
Carports that do not have walls end up little more than wings during a severe thunderstorm, meaning that even if they don't come apart at the seams, they're likely to lift or flip, damaging the vehicles they are meant to shelter. You may use steel rebar anchoring stakes to secure a carport so that it cannot come apart or flip. Regular inspection of the connectors that hold the individual components of the carport together is also a vital part of preventing the carport from coming apart and causing damage.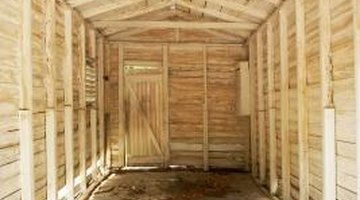 Position steel rebar stakes 12 inches from the base of the carport, with one stake at each of the carport's upright supports. Drive the rebar stakes into the ground at a 45-degree angle from the ground with a sledgehammer until only 6 inches of each bar is above ground.

Tie one end of nylon rope or connect a chain to the top of the carport upright where it meets the carport roof. The roof and upright are connected with bolts. Wrapping the nylon rope or around the junction provides optimal strength.

Attach the other end of the nylon rope or chain to one rebar stake driven into the ground, ensuring that they are connected as tightly as possible. When they are connected, drive the stake farther into the ground until it is within 3 inches of ground level. Do this for each of the rebar stakes and uprights to anchor the carport.
References
"Quick Guide: Garages and Carports: Step-by-Step Construction Methods"; Jack P. Jones; 1996
"How to Build Your Own Garage or Carport"; Robert Scharff; 1980
Tips
Use steel rebar stakes because the ridges along their length lock them more completely into ground than other styles of rebar stakes allow.
Writer Bio
Don Kress began writing professionally in 2006, specializing in automotive technology for various websites. An Automotive Service Excellence (ASE) certified technician since 2003, he has worked as a painter and currently owns his own automotive service business in Georgia. Kress attended the University of Akron, Ohio, earning an associate degree in business management in 2000.
Photo Credits
Jupiterimages/Photos.com/Getty Images
More Articles