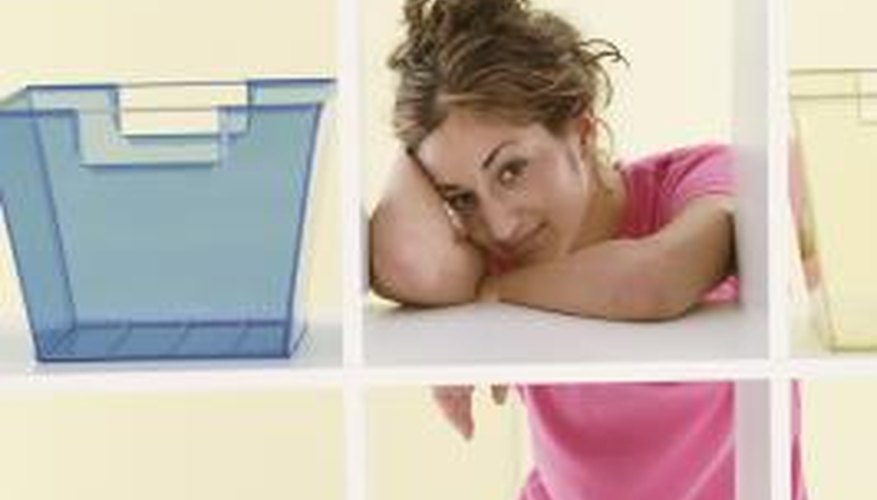 However, when you want a more grown-up look, nothing beats wooden cubes. Wooden cubes look more like furniture. They have versatility and functionality and provide loads of options for storage. By making the cubes yourself, you can customize the color of the cubes to match your décor. Create four or more and stack them to look like a unit. Use eight or more and create an entire modular storage system.
Step 1
Cut the wood to create cubes that will accommodate the height and width of the types of items you plan to store in the cubes. For example, if you're creating the cubes for books, measure the tallest books to determine how tall the cubes will need to be. Measure the wall space width to determine how many cubes you can fit in the space. Use wood that is ½ inch thick so the cubes will be sturdy.
Step 2
Use your size specifications to cut 5 square pieces of wood to make a cube with a wood back and an open front. Cut 4 pieces for a see-through cube, with an open back. Cut the left and right side pieces and the back piece ½-inch shorter than the top and bottom pieces.
Step 3
Combine one top piece and one side piece by screwing them together with wood screws to form an "L" shape. Countersink the screws so the screw heads are below the surface of the wood. Repeat with the other two pieces, and screw the two L-shape pieces together.
Step 4
Check to make sure that the corners are straight and "level" by using a measuring square. There should be no gap of space between the square and the surface of the wood.
Step 5
Attach the back piece (if you are using one) to each corner with a screw. Follow with two screws, spaced 1 inch away from the corner screw to make sure the back is securely attached.
Step 6
Fill the screw holes with wood putty and allow to dry. Sand the cubes and the putty holes for a smooth surface. Prime the cubes, allow to dry and apply two coats of paint. Alternatively, apply a stain if you want a wood-stained finish, according to the instructions for the stain.
Step 7
Place the cubes in their new location. Experiment with different ways to stack the cubes. Once you are comfortable with the look, you can opt to connect the cubes to create a permanent solid unit, using flat metal connectors and screws to attach the cubes together.
Things You Will Need

Wood
Table or circular saw
Measuring tape
Measuring square
Safety goggles
Wood screws
Screwdriver
Wood putty
Paint, primer
Wood stain
Paintbrush
Sandpaper