How to Fix a Dishwasher Soap Dispenser
As dishwashers age, their parts may begin to wear and break. The purchase of new dishwasher can be costly and hiring a repair professional can be expensive as well. If you have the knowledge and know-how to fix your dishwasher, you can get a little more life out of it and save some money in the process. One part that commonly breaks on a dishwasher and can be easily repaired by a do-it-yourselfer is the soap dispenser.
Cleaning the Dispenser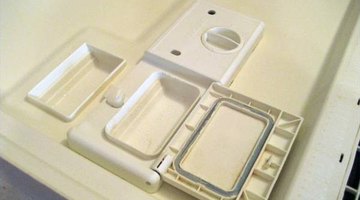 Determine whether debris build-up in the soap dispenser may be causing it to leak and not dispense correctly.

Clean debris from the soap dispenser.

Test the soap dispenser to see if it is still leaking.
Replacing the Rubber Gasket
Locate the rubber gasket on the soap dispenser door. This gasket should provide a tight seal and prevent leaking when closed.

Examine the gasket to see if it is cracked or damaged. Replace the gasket, if this is the case.

Clean the gasket, if it does not appear to be cracked or damaged. Debris build-up can be the cause of a leaky dispenser.

Coat the gasket with Vaseline. This will moisten the gasket and help it seal properly.

Test the dispenser to ensure it is working properly.
References
Resources
Tips
Before making any repairs, check if your dishwasher is still under warranty or if a particular part has been recalled. If the above steps do not resolve the problem, you may need to replace the soap dispenser. One well-known company that sells replacement parts is AppliancePartsPros.com (see Resources section). Search for the make and model of your dishwasher and purchase a new soap dispenser. Install according to the manufacturer's instructions.
Writer Bio
Jon Olson holds a Bachelor of Science in industrial technology education from the University of Nebraska-Lincoln. He also has a Master of Science in curriculum and instruction, as well as a master's degree in educational administration. Olson teaches industrial technology at the high school level and is in charge of all industrial technology curriculum for his school district.
Photo Credits
More Articles