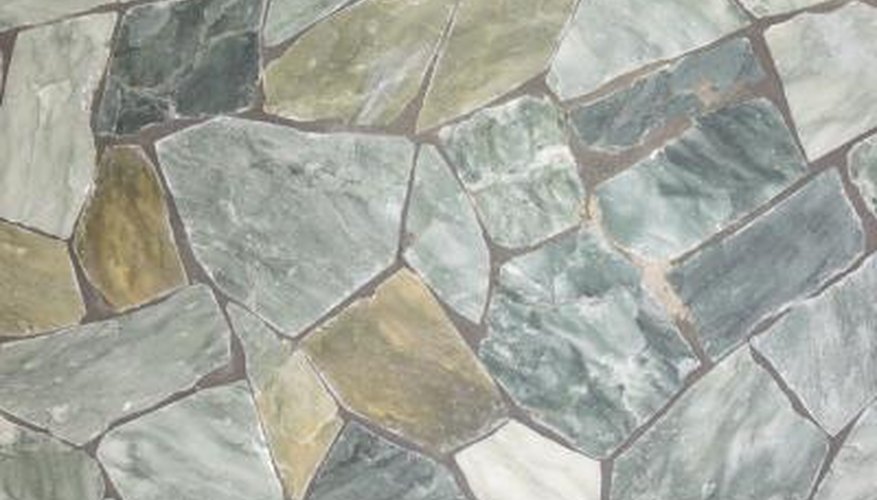 Sealing any type of natural stone is a great way to extend your stones life and enhance it's appearance. Many types of natural stone are porous and will absorb water. This can lead to discoloration and water spots. A sealer will prevent this from happening. With a bit of do it yourself experience, you can seal slate, granite, limestone, or any other type of natural stone.
Step 1
Sweep the stone completely dry of all dirt and debris with a regular broom. This is also a good time to remove any plant growth like vines or moss if you are sealing natural stone outside.
Step 2
Scrub the natural stone clean with a simple soap and water solution. Make sure you use a nylon scrub brush. Metal scrub brushes will damage many types of softer natural stone. Allow 4-6 hours for the stone to dry completely before moving on to the next step.
Step 3
Pour your stone sealer into a small bucket. Shake the can vigorously before opening it to insure a complete mixture.
Step 4
Put on a pair of rubber gloves and slowly dip your sponge into the sealer. Apply the wet sponge onto the natural stone. Put it on thick, but avoid leaving any pools of sealer.
Step 5
Let the natural stone sealer dry for at least 24 hours for a full cure before stepping on or otherwise using the stone.
Things You Will Need

Scrub brush
Sponge
Broom
Small bucket
Soap & water
Stone sealer