Bleach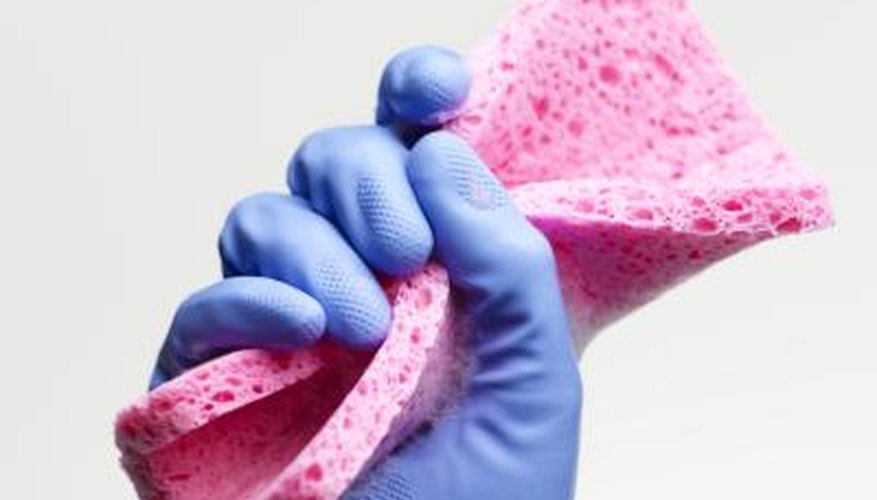 Fortunately, bleach and vinegar kill household fungus in certain areas and situations. You can readily combat fungus growing on nonporous surfaces in your home using these common household items.
Step 1
Make a bleach and water solution. Use 1 part bleach for every 10 parts water.
Step 2
Fill a spray bottle or bucket with the solution. Spray the solution directly onto the fungus-affected nonporous areas. Apply the solution by hand with a cloth or sponge if you intend to use a bucket.
Step 3
Wipe away any stubborn fungus stains or particularly dense mold colonies using a cloth or sponge. Rinsing the bleach solution is not necessary, as the bleach solution will help prevent future fungus growth. Allow it to air dry.
Distilled White Vinegar
Step 1
Pour distilled white vinegar into a spray bottle. Do not dilute the vinegar with water, as its efficacy is best at full strength.
Step 2
Spray the distilled white vinegar onto the fungus-affected areas.
Step 3
Wipe the affected area clean using water and a cloth or sponge. Allow the surface to dry before using it.
Things You Will Need

Bleach
Distilled white vinegar
Spray bottle
Water
Washcloth or sponge
Tips
Take precautions to protect your safety while cleaning up fungus. Ventilate the area well before using bleach. Wear protective gear, including gloves, goggles and an N95 respirator mask.

Follow the EPA guidelines for mold and fungus remediation. Bleach and vinegar will only cure fungus on small, nonporous materials.

Vinegar is non-toxic and does not create harmful fumes. Consider it as a primary fungus removal option whenever applicable.