How to Get Appliances Hauled Away
If you have some appliances in your home that do not work or are going to be replaced, you may need help getting them out of your home. If you cannot haul the appliances away on your own, you will need to get them hauled away for you. Fortunately, there are a few different methods you can use to make that happen, and you may not even need to pay to get them hauled away.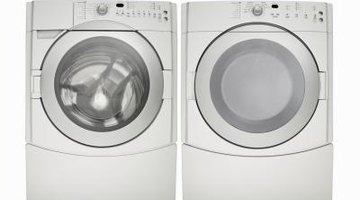 Step 1
Look for a local area company, such as Unwanted or 1-800-GOT-JUNK?, that hauls away appliances for recycling. Some companies will do this for free, while other charge a fee that varies with the item and location.
Step 2
Place an ad on Craigslist for removal of the appliances. Some people may be interested in stripping parts from the appliances, or they may just want the appliances and will haul them away from your home for free.
Step 3
Purchase a new replacement appliance. Most appliance stores, like Lowes, will remove your old appliances and haul them away when they deliver the new appliances. Inquire about the policy before making the purchase.
Step 4
Ask around or place an ad online and pay someone to come and haul away your appliances if you can't make that happen any other way. People from your community or church or online may be willing to haul the appliances away for you if you pay them a small hauling fee, such as for the cost of gas and for their time.
References
Resources
Writer Bio
Jamie Lisse has been writing professionally since 1997. She has published works with a number of online and print publishers. Her areas of expertise include finance and accounting, travel, entertainment, digital media and technology. She holds a Bachelor of Arts in English.
Photo Credits
Ryan McVay/Photodisc/Getty Images
More Articles