How to Replace Leather Chair Seats
Hiring a professional to replace leather chair seats can be very expensive. However, doing the project yourself is quick and affordable. Replacement seats are available in a variety of designs and colors. Of course, the shape of the original seat will be the deciding factor when choosing a replacement. If you are on a tight budget, you may want to select leather-look seats made from fiber. These look like the real thing, but typically cost only one-third the price of real leather.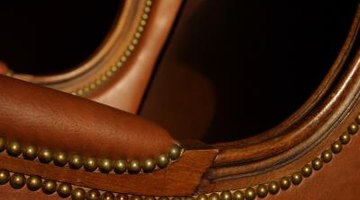 Step 1
Remove existing chair seats carefully with pliers and thin chisel to avoid scratching the wood.
Step 2
Clean chairs and polish using wood products and soft cloth.
Step 3
Condition leather with protective dressing and allow to dry. (Rub in or spray according to directions.)
Step 4
Position replacement leather seat on chair and tack into place using hammer and decorative nails or tacks.
References
Writer Bio
Wendy Hughes owns a successful small insurance business in California and specializes in employee benefits for small businesses. Although she majored in Combined Social Sciences at University of California, Santa Barbara, her true love is writing. Until recently, her writing focused on website content for BBSinternet.com.
Photo Credits
Hemera Technologies/AbleStock.com/Getty Images
More Articles