How to Reupholster a Slipper Chair
Extend the life of a vintage chair, or simply give an ugly chair a makeover—reupholstering is the way to go. It's green, it's fun and it will give your room an entirely new look. Slipper chairs are easier to reupholster than recliners or club chairs since they have no arms.The biggest challenge here is keeping the fabric taut as you're securing it. Feel free to have a friend lend a hand to keep fabric edges pulled tight as you staple it down.
Diagram and Remove Current Upholstery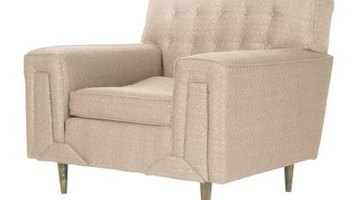 Step 1
Draw a diagram of the chair with a marking pen and paper. This will be used to mark sections of removed upholstery and keep track of where each piece should go during reassembly.
Step 2
Turn the chair over. Use pliers to remove the tacks and staples that are holding the current upholstery in place.
Step 3
Remove all current upholstery pieces, marking them with a number and indicating that number on your diagram. You may need to use fabric scissors to separate pieces at seams. Try to remove these pieces in big, clean-edged shapes—you'll use them as a pattern to cut the new pieces.
Cut New Batting and Upholstery
Step 1
Cut one piece of batting that will cover the chair back and a second piece to cover the chair seat. Use cotton or cotton/poly batting for comfort and durability; if you select wool batting, make sure it's needled wool instead of layered wool.
Step 2
Staple batting to the chair frame. Try not to staple in the center of the chair back or cushion; instead, pull batting tight and staple it to the edges of these areas.
Step 3
Cut new upholstery fabric pieces using the discarded pieces as stencils. Be sure to leave two inches of extra fabric on each edge.
Attach New Upholstery: Chair Back
Step 1
Attach the chair back's new upholstery first. Make sure fabric is taut and staple to the chair frame. It's okay if you have extra fabric hanging off the sides; trim to half an inch with scissors.
Step 2
Lay the chair front's new upholstery in place and secure one side at a time. Tuck fabric bottom into the seat cushion's batting and staple into place. Pull fabric taut over seat back and fold under until seam overlaps chair back seam by one-quarter inch. If the fabric appears wadded up or too bulky, trim until seam lays flat. Staple in place. Repeat process for side seams.
Step 3
Cut strips of welting long enough to cover the seams you just stapled down. Sew in place directly over seam.
Attach New Upholstery: Chair Seat
Step 1
Lay the chair seat's new upholstery in place, making sure the piece of fabric is centered over the seat. From beneath the seat, pull the fabric's edges to make it taut and secure temporarily with masking tape.
Step 2
Staple in place.
Step 3
Cut strips of welting long enough to cover any visible seams. Sew in place directly over seam. You may not have any visible seams on the bottom; it will depend on whether you used one large piece for the whole cushion, or had to cover the seat side by side.
Step 4
Trim any excess fabric from underside of chair. Leave no more than a quarter-inch extending past your staples.
References
Resources
Tips
If the batting becomes unwieldy when you're stapling it around the chair's corners, fold and tuck the batting the same way you would a flat sheet when you're tucking it under a mattress.
Writer Bio
Jenni Wiltz's fiction has been published in "The Portland Review," "Sacramento News & Review" and "The Copperfield Review." She has a bachelor's degree in English and history from the University of California, Davis and is working on a master's degree in English at Sacramento State. She has worked as a grant coordinator, senior editor and advertising copywriter and has been a professional writer since 2003.
Photo Credits
Ablestock.com/AbleStock.com/Getty Images
More Articles