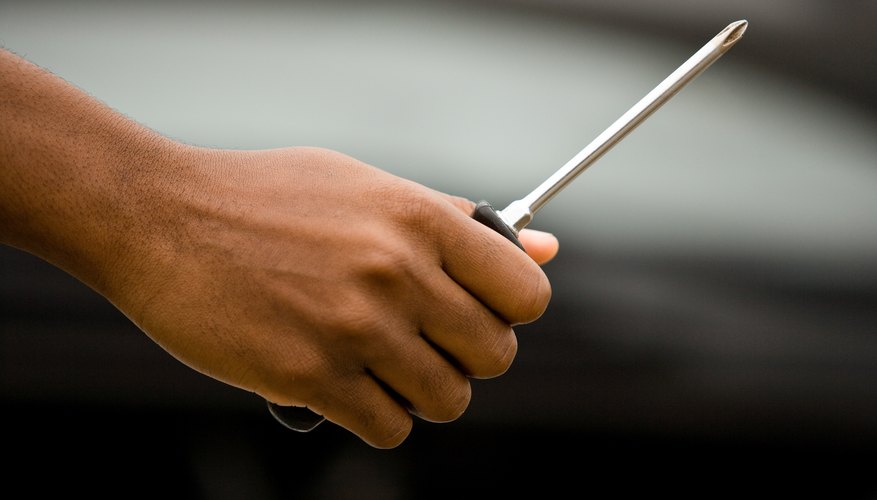 John Deere lawn tractors have many optional extras. One is the 46-inch snow blade. It provides a convenient way to move snow or other loose materials. You can angle the blade left, right or straight ahead. You can raise or lower the blade from the tractor seat and a floating action allows the blade to follow the contour of the ground. You can easily install snow blades on a John Deere lawn tractor.
Install the mounting brackets on the tractor. Align the holes in each mounting bracket with the holes in the tractor frame. You might need to remove the bumper. Install using the kit that comes with the mounting bracket. Don't tighten it up too much for now.
Remove the mower deck from the machine. You won't be mowing the snow.
Install the two 42-pound rear suitcase weights. See the instructions in the kit. You need them for stability.
Install the pivot support. Insert the pins on the right and left hitch plates into the notches on the mounting brackets. Install the pins and tighten the screws on the mounting brackets.
Install the blade. Align the holes in the pivot support with the second holes from the end of the push channel assembly. Insert the channel pin and washer and secure with the spring locking pin.
Install the lift handle. Slide the lift handle rod into the end hole in the push channel assembly. Insert the lift link pin in the pivot support bracket into the lift handle rod. Add the washers and locking pin.
Install the blade pivot rod. Either end of the blade pivot rod goes through the blade pivot shaft. The other end goes through the lift handle tube. Secure both ends with locking pins.
Lubricate the lift handle rods and pivot points.
Install the rear tire chains.