How to Stain a Cast Stone Fireplace
Cast stone fireplaces are beautiful even in their raw form. However, when stain is applied, their true potential for beauty comes alive. Unfortunately, the application process often proves messy and, many times, there is permanent collateral damage to surrounding flooring. If you plan to stain a cast stone fireplace, you need to take special precautions, or you may end up ruining adjacent surfaces.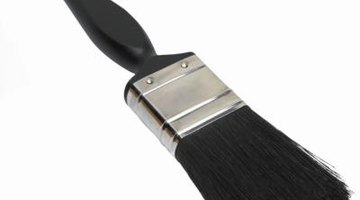 Step 1
Cover the floor around the fireplace with plastic drop cloths. Lay heavy-duty cloth drop cloths on top of the plastic ones.
Step 2
Brush away any dust or dirt using a coarse brush.
Step 3
Apply blue painter's tape to any areas on and around the cast stone fireplace you want protected from the stain.
Step 4
Apply stain to a 1-by-1-foot section of the fireplace using the oil-based paintbrush. Wipe down the wet stain with a dry rag.
Step 5
Repeat Step 3 until the entire cast stone fireplace is covered.
Resources
Warnings
Staining indoors can be a messy proposition. Because stain is so thin, it can drip and splatter easily. Never use plastic drop cloths alone as they allow stain to pool up. In addition, do not use cloth drop cloths alone as stain may be able to soak through.
Writer Bio
Ryan Lawrence is a freelance writer based in Boulder, Colorado. He has been writing professionally since 1999. He has 10 years of experience as a professional painting contractor. Lawrence writes for High Class Blogs and Yodle. He has a bachelor's degree in journalism and public relations with a minor in history from the University of Oklahoma.
Photo Credits
George Doyle/Stockbyte/Getty Images
More Articles