How to Install a Kohler Sink Drain
Plumbing is not among the favorite projects for homeowners to tackle. However, since plumbing is a necessary part of the upkeep of a home, learning the basics just makes good sense. Keep in mind that major plumbing, or that which requires digging in the ground or replacing a large number of pipes, should be left to the professionals. A minor plumbing project, such as installing a Kohler sink drain, is one you can approach with confidence. As with all plumbing installs or repairs, read the manufacturer's guide on the product package to see if special tools are needed.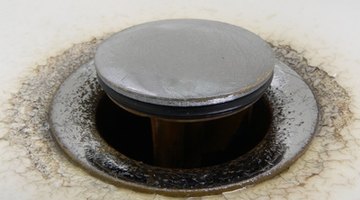 Clean out the sink after removing the old drain, if applicable. Separate the Kohler sink drain parts from each other.

Apply plumber's putty to the bottom of the section that fits on top. Place a small amount of the putty in your hand and roll it back and forth to form a "rope" long enough to fit around the drain top.

Press the putty firmly against the bottom side of the drain top. Thread the bottom nut over the drain and turn it a few times.

Slip the bottom section of the drain up through the bottom of the sink and thread the top section onto it from inside the sink bowl. Tighten the top section and the bottom section at the same time until the drain fits snuggly against the sink bowl. The plumber's putty will squeeze out from under the top section but will make a good seal.

Clean up as much of the putty as you can with your fingers and return it to the container. Connect the drain pipes according to the manufacturer's instructions. Check for leaks.
References
Tips
Tighten the nuts that hold the sink drain in place with your hands or a pair of channel lock pliers.
Be certain the tail piece to the drain kit slips into the drain pipes far enough to get a good seal.
Clean up putty residue with low-odor mineral spirits or rubbing alcohol and a soft cloth.
Warnings
Do not over-tighten the nuts on the drain, as this can damage the threads and cause leaks.
Do not leave tools, plumber's putty or cleaning chemicals unattended in the presence of children.
Writer Bio
Michael Straessle has written professionally about the construction industry since 1988. He authored "What a Strange Little Man," among other books, and his work has appeared in various online publications. Straessle earned a Bachelor of Arts from the University of Arkansas at Little Rock in professional/technical writing.
Photo Credits
old ugly sink image by Tomasz Stelmach from Fotolia.com
More Articles