How to Airbrush Furniture
To get an even coat of paint on a piece of metal, plastic or wood furniture, you will need to spray on the paint with an airbrush machine. Airbrushing is most commonly used for painting cakes, clothing, vanity license plates and body painting at art festivals. Airbrushing furniture requires a special spraying machine with a tank for the paint. You will need to prepare your furniture pieces and your work area for safety before you start your project.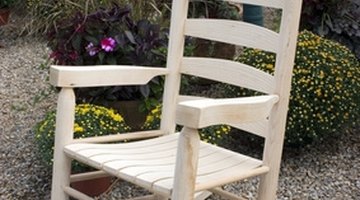 Prepare the furniture you will be airbrushing and the area in which you will be painting by placing old sheets or pieces of newspaper underneath the furniture. Tape pieces of newspaper onto the cushioned parts of the furniture that you do not want to paint.

Prime the furniture by sanding down all parts of the piece that you want to paint. Apply primer with a paintbrush to the furniture to ensure the paint sticks and does not peel off later.

Take extreme caution to work in a well-ventilated area. If indoors, ensure the area is ventilated by placing box fans in the room and opening all windows. Only work in areas you can ventilate or outdoors, and wear a facemask to prevent inhalation of the fumes from the paint.

Prepare the airbrush spray paint for application by mixing appropriately with water. Follow the specific directions on the bottle of paint and mix the paint with water to thin it down. You want the paint to pass through the nozzle and hose on the airbrushing machine fluidly to avoid any clogging.

Pour the paint into the airbrush sprayer tank. Apply the paint onto the furniture by pressing the spray trigger on the airbrushing machine and holding the nozzle between 1 to 2 feet from the piece of furniture.

Airbrush on the paint in straight strips approximately 3-feet long, or shorter, according to the furniture piece you are applying. Start at the top of the furniture piece and work your way down. Clean off the nozzle of the machine with a finger or old rag after every third strip sprayed onto the furniture piece.
Resources
Tips
Once you are finished painting, clean out the airbrushing machine and tank by rinsing the tank thoroughly with water and spraying out water several times to clean out the hose and inside of the nozzle.
Writer Bio
Stephanie Daniels is a freelance writer residing in Louisa, Kentucky. Daniels focuses on parenting, children, gardening and home-decor articles. She was the manager of Home Decor for Home Depot for 4 years. Daniels has written for many online publications and enjoys ghostwriting.
Photo Credits
More Articles