How to Change a Tappan Oven Bake Element
You will need to remove the old bake element from your Tappan oven to get a proper replacement part. Because of the different sizes of bake elements, have the old one with you when purchasing the replacement. The bake element ends fit into mounting holes in the rear oven wall, so be sure that the new element matches the faulty one exactly. Frigidaire manufacturers the Tappan oven; however not all Frigidaire bake elements fit the Tappan oven.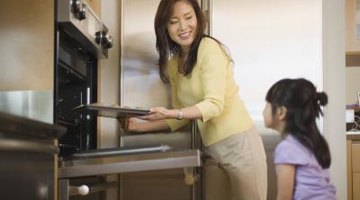 Step 1
Remove the storage drawer from the bottom of the Tappan range. Reach inside the drawer cavity and disconnect the power cord from the electrical outlet.
Step 2
Open the oven door and remove the lower cooking rack. Remove the two screws that secure the bake element to the oven's rear wall with a Phillips-head screwdriver.
Step 3
Pull the bake element toward the front of the oven until you can see the wires that connect to the terminal ends. Pull the ends of the wires off the bake element terminals with your fingers. Pull the bake element out of the oven.
Step 4
Place the new element into the oven with the terminal ends facing the back of the oven. Slide the oven wires over the terminal ends.
Step 5
Insert the ends of the bake element into the back of the oven and secure with the retaining screws. Place the cooking rack back in the oven and close the oven door.
Step 6
Plug the power cord back into the outlet and put the storage drawer back into its location under the oven.
References
Tips
Take the old Tappan bake element to an appliance repair shop to purchase the replacement. It is a good idea to have the model number of your unit as well for cross referencing. Compare the new element against the old one to ensure the ends are properly spaced.
Warnings
Always disconnect power from appliances before attempting repairs.
Writer Bio
Kenneth Crawford is a freelance writer with more than 10 years of experience. His work has appeared in both print and online publications, including "The American Chronicle." Crawford holds an associate degree in business administration from Commonwealth College.
Photo Credits
Brand X Pictures/Brand X Pictures/Getty Images
More Articles