How to Design a Palapa
A "palapa" is n outdoor, open-sided structure held up by one or more pole and topped by a thatched roof usually made of palm fronds over a wooden framework. The traditional palapa structure, originally from Africa, became especially popular in coastal Mexico over the last two thousand years and enjoys more recent popularity in restaurants, motels and homes in the United States. The palapa is easy to construct and has a functional design which keeps the rain outside while allowing cool air to circulate inside. Varous styles, sizes and materials of palapas are possible for your project.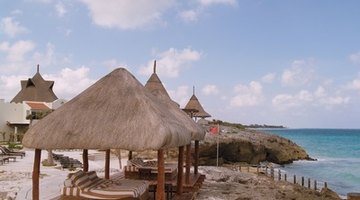 Survey the area you're considering for a palapa project. Measure the installation space available with a tape measure and jot down the measurements in a notebook. Note variables such as light at different times of day, room for and around a palapa, existing structures and existing plants. Step back and examine the area for both physical and aesthetic fit. Use a camera to take pictures of the space for future reference.

Consider the appropriate size and shape of the palapa for the function you envision it serving. Think whether you only need a small, round, "umbrella" palapa structure or a larger space to relax and stretch out on a lounge chair, or an even larger area for parties, a patio bar, a hot tub sunshade or a carport. Weigh the pros and cons of the various possible shapes, including round, oval, square and rectangular.

Study different styles of palapas from images in books, catalogs, travel brochures or on websites. Note the four major styles of palapa design. You'll see that the smallest palapas are usually shaped like an umbrella on a central "lodge" pole; larger palapa structures of all shapes use two, four or more poles; some palapas rest against the outdoor wall of a building; and very large palapas have both a central lodge pole and a number of poles around the edges.

Determine the materials you'll need for a palapa project, including flooring, poles, framework and thatch. You can install palapa poles into bare ground with concrete, on concrete itself by coring and adding fresh concrete, or onto wood with metal stands. Choose the poles themselves as well as the framework from pine, cedar, ash or redwood. Decide if you want authentic palm fronds which can be bought sewn in panels for installation, or panels of other grasses or artificial thatch.

Draw out your palapa design, including the surrounding space. You may want to draw the design to scale on graph paper as well. Take your drawing and measurements outside to the actual site for the planned palapa structure, and mark out the edges with chalk, string or rope. Step back and survey once more, making adjustments if necessary for space or aesthetics.

Think about finishing touches to the palapa design such as a built-in bar, heat, lights, hammock, other furnishings and tropical plants.

Decide whether your palapa design calls for a contractor, or if you want to build the palapa project from a kit or even from scratch.
References
Resources
Tips
Note that a palapa structure is highly wind resistant due to the open sides and palm fronds.
Consider hand-peeled pine poles for the treelike character they'll lend to the palapa design.
Warnings
Factor in fire retardant for the final palapa design, especially if you will be using heat or fire in the palapa structure.
Check to see whether there are any local ordinances or zoning restrictions that apply to your palapa project.
Writer Bio
Jaqueline Girdner has written nonfiction and fiction since 1989, including articles, essays and recipes for publications including "The Eneagram Monthly" and "The Portable Writers Conference." She has published 16 mystery novels and now writes home and garden articles for eHow. Girdner holds a Bachelor of Arts from California State University-Hayward and a Juris Doctorate from the University of San Francisco.
Photo Credits
palapas...suites océaniques image by rachid amrous-spleen from Fotolia.com
More Articles