How to Remove the Door from a Kenmore Dishwasher
Kenmore has been manufacturing dishwashers and other kitchen appliances for over 100 years. These appliances work by pulling in water from your home's water supply, mixing it with detergent, and pumping it through a device called a sprayer arm to wash off food and other debris from your dishes. A sudden bump or jolt to the front of one of these appliances can damage the door, resulting in a bad seal which can leak water all over your kitchen. If that happens, you'll want to remove the door from your Kenmore dishwasher as soon as possible so that you can replace it with a new one.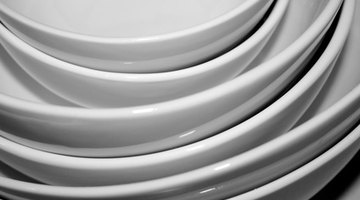 Shut down the power to the dishwasher at the main circuit.

Open up the dishwasher door to the widest position.

Remove the installation brackets that hold the dishwasher in place using a screwdriver. These brackets are located above the door and below the counter. Most Kenmore dishwasher installations will have two brackets.

Pull the dishwasher slowly out of the installation place. Have an assistant help you if this is a large Kenmore model. You only need to pull it out enough to get at the door hinges on the side.

Remove the springs. Lift the door up to about the halfway position to release the tension on the springs. Use a pair of pliers to pull up one the end of the spring where it is connected to the dishwasher frame. Do this for each side.

Unscrew the door hinges located at the bottom of the dishwasher frame with a socket wrench.

Gently pull the door out of the dishwasher casing.
References
Tips
In addition to, or instead of springs, some dishwashers will use a lever assembly. In this case, you will first have to remove the upper lever assembly from the dishwasher casing.
Warnings
Door removal instructions may differ, depending on your Kenmore model. Follow any instructions for your specific model from the manufacturer.
Wear safety goggles and gloves when removing the springs, as these parts are under a lot of tension and may snap off suddenly.
Writer Bio
Nathan McGinty started writing in 1995. He has a Bachelor of Science in communications from the University of Texas at Austin and a Master of Arts in international journalism from City University, London. He has worked in the technology industry for more than 20 years, in positions ranging from tech support to marketing.
Photo Credits
More Articles