Metal and Concrete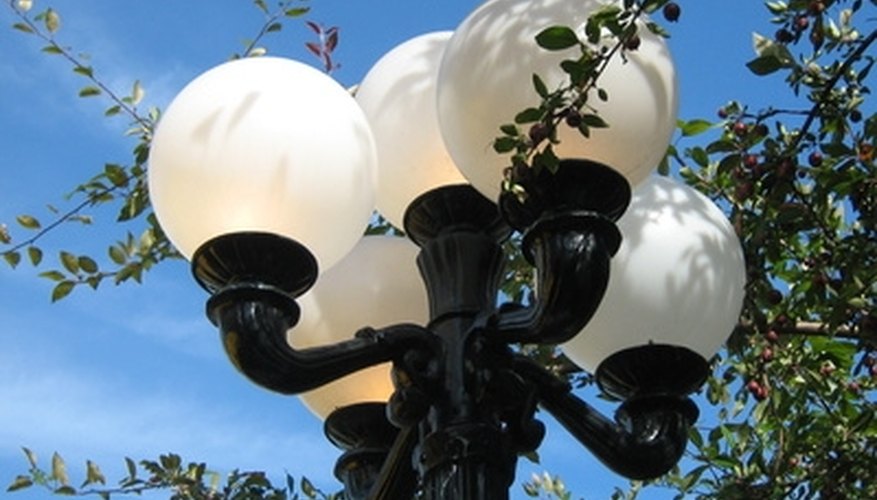 By the time you put soil and plants into the planter and water them, weight becomes a major factor. You must worry about liability should the planter fall and hurt somebody. Make sure your lamppost brackets are properly engineered and securely installed to handle the load.
Study the shape of the lamppost to determine if it is straight up and down, fluted or tapered. Decide how many flower baskets to hang from each lamp post, one or two.
Measure the circumference of the lamppost at the height you will mount the lamppost bracket. To measure the lamppost, climb a ladder with an empty hanging basket. Hold it by the hook, and let it dangle. Decide how high above the head the bottom of the basket will hang. Decide in advance whether to place hanging, vining plants in the basket. They usually grow and hang below the bottom of the basket; therefore raise the height of the basket higher. Mark on the post with a pencil the height of the hook of the hanging basket.
Take a cord and wrap it around the lamppost at the level of the pencil mark. Take a marker to mark where the two strands of the cord intersect. Measure the distance between the two marks to get the circumference of the bracket to purchase or special order.
Assemble and mount the lamppost brackets per manufacturer's directions. Most come with steel bolts that you push through the holes of a two-piece mounting bracket that clamps around the lamppost. As you tighten the nut on the steel bolt, the bracket clamps tighter to the lamppost.
Wood
Use 3-inch wood lag bolts to mount decorative plant brackets to a wood lamppost. Mount either one or two placed opposite each other. Make sure the plant bracket is rated for exterior use.
Drill a hole slightly smaller in diameter than the diameter of the lag bolt.
Thread the lag bolt through the hole in the plant hanger bracket, and insert the tip into the pre-drilled hole. Use a wrench to turn the lag bolt until it clamps the bracket tight to the wood lamppost.
Things You Will Need

Metal, concrete, wood lamp post
Hanging basket planter
Ladder
Pencil
Cord
Marker
Tape measure
Metal lamp post brackets
Lag bolts, 3-inch
Electric hand drill
Drill bit
Plant hanger
Wrench
Tip
Make sure the lamppost, hanging basket bracket is rated for the amount of weight you intend to hang from the bracket.