How to Prevent Outdoor Signs From Fading
Outdoor signs serve many purposes. Some can advertise businesses or items for sale. Others are purely decorative, announcing the family or estate name. They can also add whimsy to walkways, paths and gardens or other landscaping projects. In order to prevent them from fading, proper preparation has to be taken, as well as maintenance measures in some cases.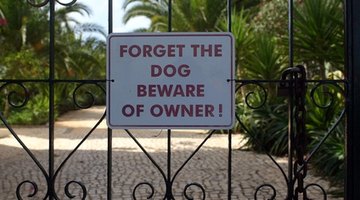 Choose the right material for your region and environment if you having signs custom made. As Tanya Bredehoft, owner of Artefact Design, puts it in her article "Choosing Materials for Outdoor Signs," "Planning is especially important in choosing materials for outdoor signs, since they will be subjected to a variety of site-specific environmental factors including weather, graffiti, pollution, wild animals and even target practice." Options include everything from a hard laminate to aluminum to treated and untreated wood.

Use a wood preserver before you prime and paint on wood. This will help the paint bond to the wood better and last longer. Finish it with a polyurethane or other sealer meant to protect outdoor signs from fading, peeling and cracking.

Buy a paint meant for use outdoors when painting a laminate or metal sign. Each has different types of paint that bond better and last longer on specific types of material.

Place the signs in a shady area if at all possible to reduce the risk of fading from sunlight. If they are not sealed, care should also be taken to not place them in areas that will have constant liquids dripping on them, such as water dripping from gutters or sap from trees.

Prevent outdoor signs from fading in the harsher elements by bringing them in during the winter months. Cold can cause the sealant to crack, exposing the design underneath to damage.
Tips
Keep a small amount of the outdoor paint you used around for touch-ups and re-coats if fading does happen.
Writer Bio
Rosallee Scott has been a freelance writer since 1998. Currently, her career is focused on creating informational articles for Web content. Though Scott's articles cover a variety of topics, her concentration is predominately on garden-related issues, decorating and interior design.
Photo Credits
dog sign image by Vasco Oliveira from Fotolia.com
sign image by jovica antoski from Fotolia.com
funny sign image by Wouter Tolenaars from Fotolia.com
pink tulip field with sign image by Maximilian Effgen from Fotolia.com
historic image by Kenneth Summers from Fotolia.com
stock image of bird house with welcome sign image by Ruslana Stovner from Fotolia.com
More Articles