Change the Hardware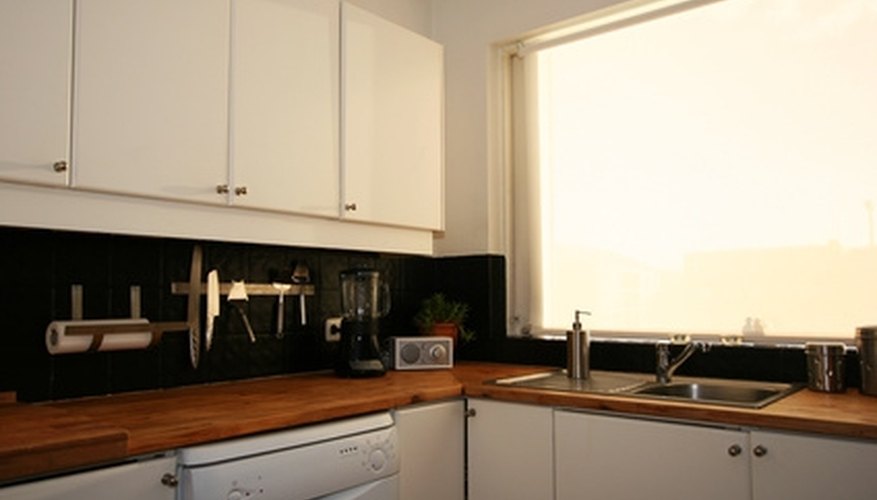 Custom cabinets are expensive, but with a little knowledge, some materials and elbow grease, you can update your existing cabinet doors and make the room look like new.
Sometimes all that is required is to clean the cupboards and update the hardware. Remove the hinges and handles from the existing cabinets with a screwdriver.
Wash the cupboards with a mixture of dishwashing detergent and water. Choose a soap that cuts grease. Allow to dry.
Replace the hinges and handles with new hardware. You can buy kitchen cabinet hardware at your local hardware store or places such as Lowes and Home Depot. Modern trends include stainless steel and sleek shapes. Make sure what you choose goes well with other decorative elements in the room.
Paint the Cabinet Doors
A kitchen can also look outdated because of the color of the cabinets. If this is the case, a paint job will do the trick. Prepare the room. Remove everything from the counters. Take down window treatments. Cover the counters and floors with drop cloths. Hang plastic sheets over the door ways to contain dust from sanding. Set up a work table.
Take off the cupboard doors, remove the hinges and handles and wash the doors thoroughly to remove grease and grime.
Fill cracks and dents with putty.
Sand the doors with an orbit sander and 100 grit sandpaper or hand sand using sanding pads. Remove the sanding dust from the door using a tack cloth.
Prime the doors and allow them to dry thoroughly. Paint the doors with oil based paint, which is more durable than water based paint and easier to clean. More than one coat may be required. Let the paint dry completely before adding another coat. Sand and paint the cabinets in the same fashion. When both are dry, hang the doors back on the cabinets.
Stain the Cabinet Doors
Prepare the room as you did to paint.
Just as in painting, sand the doors with an orbit sander and 100 grit sandpaper or use sanding pads. Use tack cloth to remove the sanding dust.
Wipe on the stain with clean, white cloths. Use a small paint brush like those used to paint a picture, to get into the corners. Cover all surfaces. Allow the stain to dry thoroughly. This could take up to 24 hours.
Brush on a clear coat of varnish or polyurethane. Apply it in light coats and be sure each coat dries before applying the next one. Before applying the last coat, lightly hand sand the door with the grain. Use either sandpaper or a sanding pad, sanding until it is completely smooth. Use tack cloths to remove sanding dust and wipe with a clean cloth. Sand and stain the cabinets. Let the finish dry completely before hanging up the doors.
Things You Will Need

Screwdriver
Dish detergent
Primer
Paint
Paintbrush
Drop cloths
Plastic sheets
Work table
Putty
Orbit sander
100 grit sandpaper
Sanding pads
Tack cloth
Clean white cloths
Stain
Varnish
Polyurethane