How to Make a Hanging Support for an Upside Down Tomato Plant
A 5-gallon bucket filled with soil weighs 50 to 60 pounds, making sturdy support imperative for a delicate tomato plant growing upside down. Many gardeners hang their buckets by the handle or a chain basket from a swivel hook attached to a lag thread eye bolt embedded in the underside of a deck or balcony. Others use an 8-inch S-hook connecting the bucket handle to a spiral staircase deck railing. A freestanding support can support numerous buckets if this is the best option to locate the buckets in a bright part of your garden with many hours of sunlight.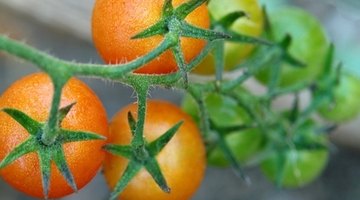 Saw four of the 2-by-4s to 6 feet in length. Slide these legs into the sawhorse brackets. Nail in place with two nails in prefabricated openings in each side of the brackets.

Space the V-shaped sawhorse legs about 7 feet apart with a helper. Snap the 8-foot-long crosspiece into the top of the brackets. Nail on each side of the bracket to stabilize the crosspiece.

Place the hanging support in the sunny spot in your garden. Loop chain over the crosspiece and through the tomato bucket handles and fasten end links together with a C clip.
References
Tips
For a simpler and portable hanging support, use an old coat rack.
For a more permanent and taller support, anchor two post anchors in cement bases 7 feet apart. Attach two 6-feet tall 4-by-4s to the post anchors and post beam caps on top of the 4-by-4s. Run an 8-foot-long 4-by-4 crosspiece across the tops of the vertical posts and nail into the post beam caps. Hang the tomatoes by heavy-duty lag thread eye bolts threaded into the sides of the crosspiece.
Writer Bio
An award-winning writer and editor, Rogue Parrish has worked at the Washington Post, the Baltimore Sun and at newspapers from England to Alaska. This world adventurer and travel book author, who graduates summa cum laude in journalism from the University of Maryland, specializes in travel and food -- as well as sports and fitness. She's also a property manager and writes on DIY projects.
Photo Credits
More Articles