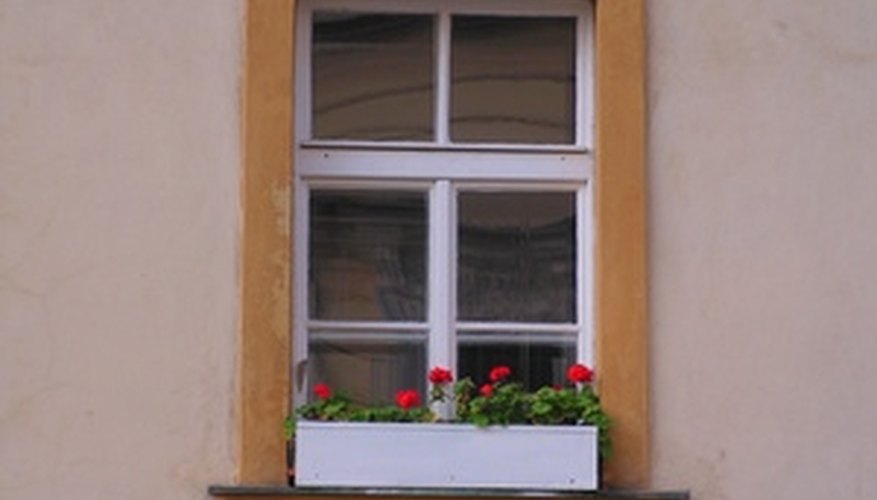 Perhaps the cost of having new windows placed inside your home is too expensive or you are looking for a more traditional, elegant look with a non-opening window frame. With a little bit of do-it-yourself skill, making your own window frames is relatively simple.
Measure the area for the windows, using a measuring tape. Cut the 2-by-2 wood boards with a saw to the width and length of the window to be replaced. For example, if your window is 10 inches by 30 inches, cut two boards 10 inches long and two boards 30 inches long.
Cut each wood board with the saw to the required 45-degree angle so the window frame will fit tightly together. Rout the ends of the boards with the router drill. Think of how a window frame or picture frame looks while connected; this is how you'll rout the ends.
Measure the wood boards directly in the center and mark the area. Draw a straight line with the wood pencil down the inside center of each piece of wood. Carefully rout the center line to ½ inch deep on all four boards. This is the area where the glass will be inserted into the wood.
Drill two pilot holes on the corner of the wooden boards on the slanted side half the depth of the dowel pins with the router drill. For example, if your dowel pins are 1/2 inch long, your pilot holes will be 1/4 inch deep. The pilot holes must match up with the connecting wood board that will create the frame.
Apply a drop of wood glue into long wooden board's pilot holes. Insert the dowel pins halfway. Fit a shorter piece of the wooden board frame by applying a drop of glue into the empty pilot holes and fit the sides together, inserting the end with the dowel pins into the piece that has no dowel pins.
Repeat Step 5 with the other side that will be the frame. Do not place the bottom of the piece of frame on yet.
Slide the piece of glass into the frame, following the routed line you cut in the middle of the frame.
Attach the bottom part of the frame, using the dowel pins and wood glue.
Caulk around the glass you inserted, applying the caulk evenly.
Apply the exterior primer to the window frame in thin, even coats with a paintbrush and let dry.
Apply exterior paint or stain with the paintbrush.
Things You Will Need

2-by-2 wood boards
Caulk
Glass
Router drill
Dowel pins
Exterior primer
Exterior paint or stain
Measuring tape
Wood pencil
Paintbrush
Saw