How to Build a Smoker Fire Pit
Smoker fire pits can be in a variety of sizes, both horizontally and vertically. Smokers can be bought for a pretty penny, but they can also be built at home from different materials such as an oil drum, water tank, a trash can or even an old charcoal grill. For individuals who don't have much experience working with metal, starting off making an easy smoker pit is ideal. Building a smoker fire pit out of an old or new charcoal grill is probably the easiest task, something that almost anyone can do.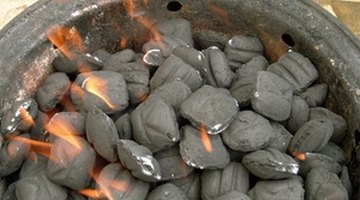 Fill a large bowl with cool water, and place at least three handfuls of flavored wood chips into the water. Allow the wood chips to soak for 45 minutes. Wood chips can be found in various flavors in the grilling section of any home store. Experiment with different flavors until you find the one that suits you best.

Pour 1/2 pound of ready-light charcoal into one side of the grill. Light with a match. The charcoal should reach only halfway up the side of the grill, acting as the initial heating source. The wood chips are what will give the food flavor. Allow the coals to burn for 20 minutes.

Fill the large metal pan halfway with cool water. Place the pan into the grill, on the other side of the burning charcoal. If you don't have a large metal pan, you can substitute a disposable aluminum pan.

Strain the soaked wood chips and place them directly on top of the hot coals.

Soak a few more handfuls of wood chips in water. You will need to add more wood chips throughout the smoking process, approximately every 45 minutes to an hour.

Insert the cooking grate and arrange prepared food on top, above the water pan.

Cover with the grill lid, ensuring that the air vents on the lid are positioned on top of the meat and water pan.

Insert the meat thermometer into one of the vents on the lid. Watch the temperature occasionally to ensure it stays under 250 degrees Fahrenheit. Remove the lid for a minute or two if the temperature ever exceeds 250 degrees.

Cook three to six hours, depending on the size of the meat, until cooked through.
References
Tips
Adding your favorite seasonings to the water pan will add more flavor to your food. Try garlic powder and pepper for a start.
Writer Bio
Teresa Starr has been a professional writer since 1998, with novels to her name and credits as a screenwriter. Her novels include "The Questions Within" and "A Forgotten Tomorrow" which are both distributed internationally by Ransom Publishing, U.K. Starr studied English and creative writing at Frederick Community College.
Photo Credits
More Articles