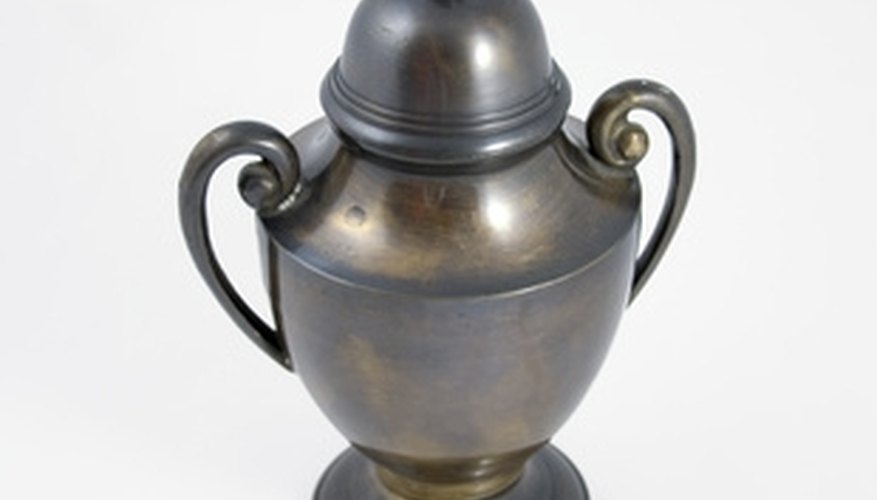 Unfortunately, when neglected and not cared for properly this patina is covered over with unpleasant tarnish and dirt. You can easily restore a piece of antique brass with very little effort. You just need to make sure you don't apply too much force or rub the brass too vigorously because this will also remove the fine patina beneath the dirt. Using soft, gentle strokes and the right cleaning treatment will restore the brass to its original beauty.
Wash away any surface dirt on the brass by adding dish soap to hot water. Gently rub the dirt away with a soft cloth dipped in the water, not using a lot of pressure.
Rub the brass with a towel and let it dry thoroughly.
Make a restoration solution of salt, vinegar and water. Mix 1 tbsp. of salt, 1 tbsp. of vinegar and 1/2 pint of hot water until the salt dissolves.
Soak the cloth in the solution and rub it all over the brass. Clean the brass until the original patina is visible, wetting the cloth whenever it starts to dry out.
Wash the brass with hot, soapy water until all of the salt solution is removed. Rinse it clean of the soap with clear water.
Use a long-term brass polish to give the piece a strong, protective finish.
Pour the polish onto a buffing cloth and rub the brass until the polish is absorbed and the brass has a smooth, even finish.
Things You Will Need

Dish soap
Hot water
Soft cloth
Towel
Salt
Vinegar
Long-term brass polish
Buffing cloth
Tip
A long-term polish has particles that stick to the brass that help reduce future tarnishing.