How to Cut 20 Degree Angles on a Table Saw
Wood must often be cut at angles, such as 20 degrees. Cutting wood at angles is easier if you have a table saw miter jig. In most cases, you will get a miter jig when you purchase the saw. Otherwise, you need to get one from a tool supply retailer.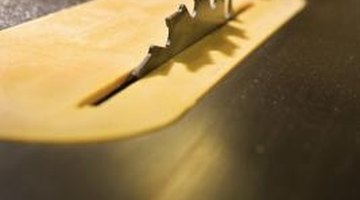 Loosen the clamps on the rip fence and slide the rip fence off the table. The rip fence is the long bar that runs parallel to the saw blade. You butt your wood up against the rip fence when you slide the wood across the table. You will not use the rip fence when cutting angles in your wood. The rip fence will impede your progress so it has to be removed.

Place the table saw miter gauge into the square groove on the top of the table. Slide the miter jig up and down the groove to make sure the groove is clear of dirt and debris.

Loosen the lock on the miter jig and rotate the jig to 20 degrees or whatever angle you want to cut into the wood. Tighten the lock on the jig.

Slide the jig to the left side of the table and place your wood on the table and butt it up with the jig.

Turn on the table saw and then slide the wood and the jig across the table to cut the wood.