How to Install a Mop Sink
A utility sink, or a mop sink, is a functional addition to any utility space such as a garage or basement. It can be used to clean tools and equipment and to store dirty mops until you are ready to clean them, and you'll never risk ruining it, because it's designed for heavy-duty use. Installing one is not for the faint of heart and may require special care and skill when cutting into the existing drain line, but a reasonably competent weekend warrior with a day or two to work can get the job done.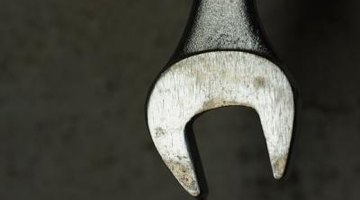 Step 1
Turn off the water supply to the house to prevent spills.
Step 2
Cut a chunk out of the current drainpipe with a hacksaw and install a wye fitting in that place. This will give you the branch you need to connect your sink drain.
Step 3
Rough the trap assembly together with PVC pipe and attach it to the wye fitting, so that the sink can be placed on top of it.
Step 4
Set the sink in position. If it's not the type of sink with legs, use the included mounting brackets and fasten the sink to the wall with a screwdriver.
Step 5
Insert the sink's tailpiece into the PVC trap you roughed in and tighten the nut on the tailpiece with the wrench to secure the PVC pipe.
Step 6
Apply plumber's putty under the faucet and the faucet into place, tightening the nuts from below the sink deck to secure it.
Step 7
Attach flexible PEX piping to the hot and cold supply lines at the valves and screw them into the faucet.
Step 8
Turn the water supply back on.
References
Tips
You can also use PVC supply lines for the water supply, but PEX is much easier to work with because it's completely flexible, narrow tubing that acts just like narrow PVC, but bends like a hose and comes threaded like the end of a garden hose also.
Wye fitting is just like it sounds if you pronounce it aloud: it's a piece of pipe shaped like the letter Y, so it creates a fork in the pipe where you install.
Writer Bio
L.P. Klages is an entrepreneur and software developer, concentrating on information theory, software user experience, and mathematical modeling. He has been writing about technology and the business of technology since 1999. His articles have appeared on many sites, including GameDev.net, KenSharpe.net, and eHow. Klages attended Jacksonville University in Jacksonville, Fla.
Photo Credits
Hemera Technologies/AbleStock.com/Getty Images
More Articles