How to Build a Baseball Bat Headboard
A baseball bat headboard is a good way to make a focal point in a kid's bedroom while adding a sense of whimsy to a sports-themed space. Making a headboard like this at home can be a thrifty alternative to purchasing one in a furniture store, where similar items can be pricey. You can make a baseball bat headboard with a few basic materials and tools, along with a little know-how and some time.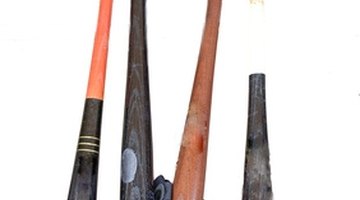 Paint a 4 x 4 plywood board. The building supply store where you purchase the board can cut the piece to your specifications. Paint the whole board red. Set it aside and let it dry completely.

Lay the red board on the floor in front of you. Lay six wooden baseball bats vertically across the board, using a measuring tape to make sure each one is evenly spaced across the board, about 5 inches apart. Make sure the top of the bats come up to the top of the board.

Attach the bats to the board by using an electric drill to drill a screw into the top and bottom of each bat. The screw should go through the wood of the bat and into the plywood board behind it. Continue until all six bats are secure.

Lay an extra bat horizontally across the top of the bats. Attach this in place with the electric drill and screws as well.

Hold the headboard up against the wall where you want the bed to go. Use a hammer and nails to secure it to the wall, and push the bed flush against the headboard.
Tips
Add plastic baseball helmets to the top of each bat for an added detail.
Warnings
Make sure to use enough nails to keep the headboard attached to the wall.
Photo Credits
More Articles