How to Use Trex Lumber to Build Planter Boxes
Trex is a composite non-weight-bearing building material made from recycled materials and formed into boards. Trex is an eco-friendly option for building and designing planter boxes. Trex is virtually maintenance-free, does not rot, degrade, crack, split or warp, making it an economical choice for a planter box that will last a lifetime.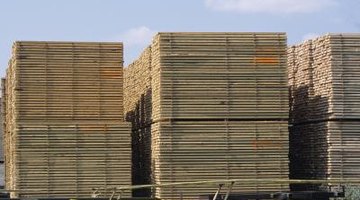 Step 1
Use a circular saw to cut Trex: 4 pieces that are 19-inches long, 14 pieces that are 15-inches long and 5 pieces that are 11-inches long.
Step 2
Set the circular saw to cut a 45-degree angle and trim 1 inch of the four 19-inch lengths of Trex.
Step 3
Lay three lengths of 15-inch Trex on the ground next to each other, line them up evenly, and then hammer galvanized nails in each piece at a 45-degree angle, so the nail penetrates the adjacent piece of Trex. Repeat at the top, middle and bottom of each board to secure all three pieces together, creating a panel. Repeat with another 3-lengths of Trex.
Step 4
Lay four lengths of 15-inch Trex on the ground next to each other, lined up evenly; drive nails into each piece at a 45-degree angle to secure each piece together. Repeat for another four lengths of Trex.
Step 5
Place the edge of a 3-board panel up to the edge of a 4-board panel to create a 90-degree angle and hammer in galvanized nails at the middle, 1-inch from the top and 1-inch from the bottom. Repeat with the other 2 panels.
Step 6
Place the two 90-degree angled panels up against each other to form a square. Hammer in galvanized nails to secure the panels together.
Step 7
Rest the box with an open side facing up and place an 11-inch length of Trex across the opening, beginning on the edge, and nail in place. Butt an 11-inch length of Trex next to the first one and nail in place. Continue until the bottom of the planter shows no gaps.
Step 8
Turn the box over with the bottom resting on the ground.
Step 9
Create a frame with the remaining 4-pieces of Trex. Cut at a 45-degree angle and hammer nails in at the corners to fasten together.
Step 10
Place weed blocking garden fabric inside the box and staple it to the top edges. Trim away excess with scissors.
Step 11
Place the frame on top of the box and hammer nails in place to secure the frame to the box and hide the edge of the fabric.
References
"Outdoor Structures"; Time Life Editors; 1997
"The Complete Book of Outdoor Projects"; Time Life Editors; 1998
Writer Bio
Sal Marco began writing professionally in 2009. He has written many online home improvement articles based on his more than 20 years of experience in the home improvement and building industries. He has worked as both part of a team and as a site supervisor. Marco has a Bachelor of Science in management science from Kean University.
Photo Credits
Tom Brakefield/Stockbyte/Getty Images
More Articles