How to Duct a Window Air Conditioner
Window air conditioners, while providing an excellent source of temporary relief from the heat, are notorious for clunky installation and poor duct seals. Proper installation usually requires an inordinate amount of adjustment to the ducting blinds provided by the air conditioner, and they usually do not work well at all. A better solution is to create and install your own window ducting, which is not very expensive nor time consuming.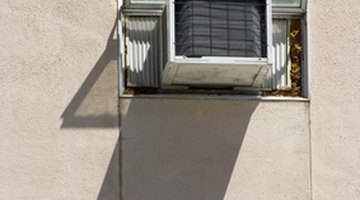 Collapse all of the current duct work on your air conditioner. These are usually small blinds that extend from the sides of the unit and can be completely collapsed with a firm push.

Measure the height and width of the gap in the window panel. Although the air conditioner occupies some of the space caused by the open window panel, you need to account for the entire area of the open panel. Use the magic marker and yardstick to mark the Styrofoam board to the exact dimensions of the open window panel gap.

Measure the area of the window gap occupied by the air conditioner using the yard stick and also measure the distance that this area is from the side of the gap itself. Use the magic marker and yardstick to replicate the area of the air conditioner within the gap upon the Styrofoam board.

Cut the dimensions of the window panel gap out of the Styrofoam board with the utility knife. Also cut the dimensions of the air conditioner out of the Styrofoam board. Use the markings you created earlier to guide your cuts. Go slowly to ensure that you cut accurately.

Slide the newly shaped Styrofoam board over the air conditioner and into the window panel gap. Secure it into place by sealing all of its edges with duct tape.
Tips
Though some household walls are white, you might wish to use Styrofoam and duct tape of a color that better fits the shade of your particular wall.
Writer Bio
C. Paul Martin began writing in 2003 while studying at Christendom College, Va. He specializes in theological/ideological history and socio-historical topics such as the Reformation, the Crusades and the ideology of revolutions. Martin holds Bachelor of Arts degrees in history and theology, and is pursuing his Master of Arts in history at National University in California.
Photo Credits
window air conditioner image by Aaron Kohr from Fotolia.com
More Articles