How to Hang a Chair From a Patio Deck
If you have a patio deck that overhangs part of your yard, you have an ideal location for hanging a rope or hammock chair. The deck overhead will provide plenty of shade from the sun. The visible joists used in deck construction will make installation of your hanging chair relatively simple. With the right preparation and materials, you can easily hang a rope or hammock chair from a patio deck in just a few minutes.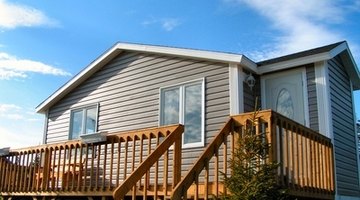 Find the position under your patio deck where you would like to install your hanging chair. Look for a joist overhead. The joists are the heavy wooden beams running across the underside of the deck. Don't attempt to hang a chair from the wooden flooring material itself.

Make a pencil mark in the center of the overhead joist. Fit a 3/8-inch drill bit into your cordless drill. Tighten the drill's chuck around the bit.

Drill straight up into the joist, keeping the drill bit perpendicular to the joist. Drill a hole to a depth of about 4 inches.

Insert the tip of a 7/16-inch-diameter eye lag screw into the pre-drilled hole. Twist the screw clockwise until the eye is flush against the joist. The screw may become difficult to tighten near the end. If necessary, insert a long screwdriver into the screw eye. Use the screwdriver handle to turn the screw with more torque.

Hang an S-hook from the screw eye. Suspend your rope or hammock chair from the S-hook.
Warnings
Hornets and other stinging insects sometimes make nests underneath patio decks. Check the area for nests before installing a hanging chair.
Wear eye protection when drilling up into the floor joists.
Writer Bio
Fred Samsa has been writing articles related to the arts, entertainment and home improvement since 2003. His work has appeared in numerous museum publications, including program content for the Philadelphia Museum of Art, and he was awarded a Presidential Fellowship in 2005. He holds a Master of Arts in art from Temple University and a Bachelor of Arts in philosophy from Brown University.
Photo Credits
More Articles