How do I Replace the Hardware on Drexel Heritage Furniture?
Timeless Drexel Heritage furniture graces your home with style and luxury. The drawer pulls and hardware on any piece of furniture are subject to a considerable amount of wear, sometimes breaking over time. Drexel Heritage warrants all its hardware for three years. After that, replacing the hardware becomes a bit less convenient.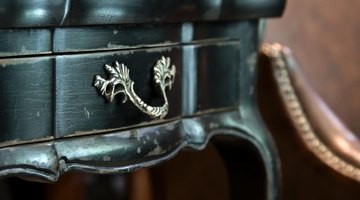 Step 1
Unscrew the broken hardware and take it to an authorized Drexel Heritage dealer. If it's within a three-year window, the dealer where you made your purchase can offer replacement hardware. If it's outside the three-year window, but the piece is still being manufactured, you can purchase spare hardware directly from the dealer.
Step 2
Determine if you want to repair the existing hardware or replace it completely, if you are unable to get replacement hardware from the Drexel dealer. The furniture store should be able to provide you with a current listing of companies that specialize in repairs and replacements.
Step 3
Contact a repair and replacement company from the list, requesting services. Following their instructions, send them the broken hardware to be repaired, or select and purchase new replacement hardware.
Step 4
Screw the new hardware onto your Drexel Heritage furniture with a screwdriver. Use a hand tool to tighten the screw snugly, or set a power screwdriver to low torque to avoid over-tightening.
References
Writer Bio
Becky Lower began writing professionally in 2004. Her work has appeared in "elan" magazine, a northern Virginia publication, "Good Old Days" magazine, the "BGSU Alumni" magazine and on the website thenovelette.com. Lower has a Bachelor of Arts in journalism and English from Bowling Green State University.
Photo Credits
Marko Bradic/Hemera/Getty Images
More Articles