Butterfly Table Leaf Instructions
A butterfly-leaf table hides the table extension inside an opening in the center of the table. The unfolding process to make a table larger appears as a butterfly with folded wings and then extends to a butterfly in flight. A butterfly-leaf table has the advantage of leaf storage within itself to save from storing a traditional flat leaf in another area of the home.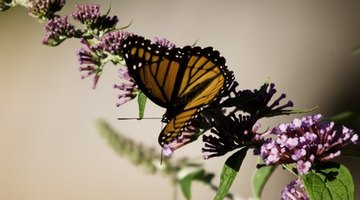 Place the left and right hand on each side of the table center. There is a divider in the center of the table between the left and right sections. Grasp the table edge on each side and pull them outward and apart as far as they will move. The butterfly leaf is revealed inside a section in the center of the table.

Stand on the side of the table where the leaf touches the edge of leaf insert.

Grasp the edge of the butterfly leaf on each side where two pieces of wood meet by folding together. Pull the pieces toward the open area of the leaf insert until the edge of the two pieces are one quarter of the total width of the table from the opposite end of the table.

Grasp the top of the two pieces of wood and begin raising it upward while pushing the bottom piece of wood forward to the other side of the table. The bottom piece of wood will fall below the tabletop level with the hinge between the two pieces of wood at the bottom.

Slide the bottom board forward to the other side of the table while pushing forward on the top board. The bottom board will rise to the tabletop level and rest on a support.

Place the top board down on the leaf support nearest yourself. The butterfly leaf is now flat on the tabletop.

Grasp the leaf on the right side with the right hand and slide the left side of the tabletop with the left hand toward the leaf. Repeat this procedure for the right side of the tabletop so that there are no cracks between the two table sides and the leaf.

Fold the leaf back into the table in the reverse order.
References
Tips
Butterfly-leaf tables slide easily in the guides of the leaf storage area to open and close. Do not force the leaf when opening or closing.
A second person on the other side of the table makes sliding the tabletop apart and together easier on a large heavy butterfly-leaf table.
Warnings
Take care when sliding the tabletop and leaf together so as not to pinch fingers or hands between pieces of wood.
Writer Bio
Mary Lougee has been writing for over 10 years. She holds a Bachelor's Degree with a major in Management and a double minor in accounting and computer science. She loves writing about careers for busy families as well as family oriented planning, meals and activities for all ages.
Photo Credits
monarch butterfly on butterfly bush image by Scott Slattery from Fotolia.com
More Articles