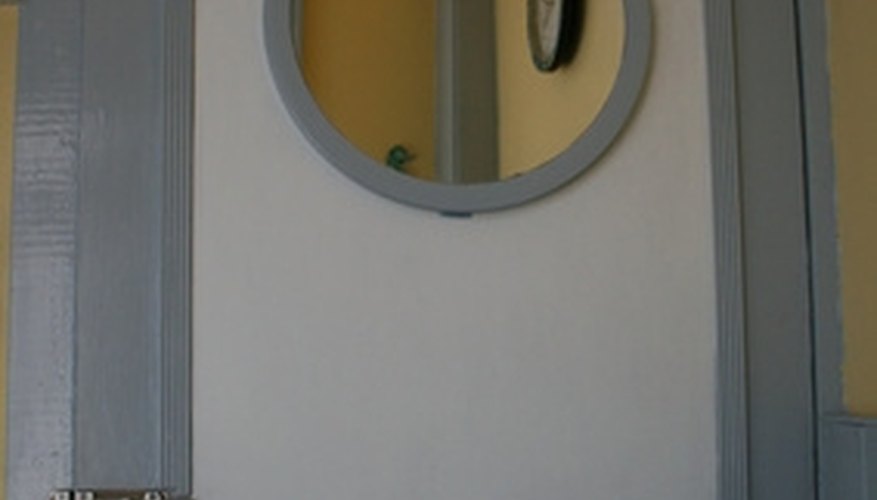 Cutting circles from plywood may seem intimidating, but the process is pretty straightforward; a circle jig takes all the hassle out of the process. Hang your framed round mirror over your fireplace, in your powder room or over your entryway landing strip for a polished, sophisticated look.
Determine the mirror's diameter by measuring across the widest part. Subtract an inch for a frame that overlaps the mirror by 1/2 inch.
Cut your plywood a few inches longer and wider than your final measurement. Drive a nail into the center of the plywood, over which you'll insert the circle jig's pivot point hole.
Mount the circle jig to your router. Your jig has a long row of holes with diameter measurements, so choose the hole that best matches your larger diameter measurement, then fit that hole over the nail in the center of the plywood.
Rotate the jig counterclockwise around its pivot point to cut out the circle with your router.
Remove your jig from the nail and reattach it to the nail at the hole that matches your shorter diameter measurement. Cut out a second, smaller circle; you now have a 3-inch-wide frame.
Sand the frame's edges. Paint or stain your frame, including the back, which the mirror will reflect. Allow the frame to dry before applying glue to the back 1/2 inch of your frame's inner border. Center the frame over the mirror's face and affix the frame to the mirror.
Allow the glue to cure for at least 24 hours.
Things You Will Need

Round mirror
Measuring tape
3/4-inch plywood sheet
Hammer
2-inch nail with a small head
Circle jig, small or large depending on mirror size
Clear epoxy glue
Tip
If you want to attach the frame to the front of your mirror--which will show the mirror's edges--use mirror mastic. Often you'll find mirror mastic in a cartridge you must load into a caulk gun before using. Mirror mastic won't eat away at your mirror's silvered back over time, a promise other construction adhesives can't make.