How to Store Flatware in Proper Order in a Silverware Box
Flatware, also referred to as silverware, consists of the knives, forks, spoons and serving utensils used at mealtimes. While many people store everyday flatware in trays in kitchen drawers, there also are silverware storage boxes for flatware used only on holidays and special occasions. Proper storage of silver flatware ensures that it remains free from damage and easy to find.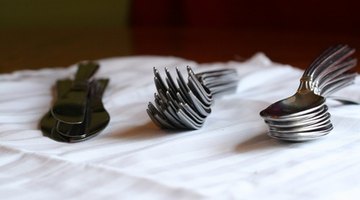 Clean and polish your flatware before storing it in a silverware box. Flatware that's dirty or wet when placed in a storage box can result in tarnished, stained and mildewy flatware.

Place the knives in the knife slots, typically found inside the lid of the storage box. This special spot for knives keeps the blades protected in the cushioned area of the lid, while keeping them away from other flatware that can be scratched by them.

Set spoons and forks, facing up, in the main compartment of the storage box, with spoons starting on the left and forks on the right. Ensure that soup spoons and dessert spoons are placed in the slots that fit to their size and shape. Place salad and dinner forks in the right-sized locations, as well.

Open the bottom drawer of the silverware storage box. Use this location to properly store your serving spoons and forks.
Tips
Silverware storage boxes come in a variety of wood and metal finishes. Choose one that complements your dining area and allows the display of your silverware to be part of the decor.
Polish silverware once per year, no matter how little it's used, to maintain appearance and condition.
Warnings
When flatware is put away in a storage box in random order, it can become scratched and damaged.
Writer Bio
Mary Ylisela is a former teacher with a Bachelor of Arts in elementary education and mathematics. She has been a writer since 1996, specializing in business, fitness and education. Prior to teaching, Ylisela worked as a certified fitness instructor and a small-business owner.
Photo Credits
More Articles