How to Remove Rust From Cutlery
Rust occurs when metal is exposed to oxygen found in the air and in water. Cutlery is prone to developing rust because the conditions in the kitchen are often humid, and the flatware may be left wet or damp for a long period of time.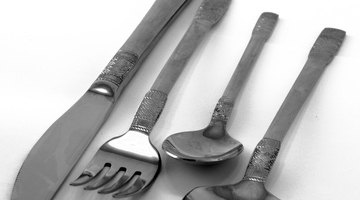 Things You Will Need
White vinegar
Shallow dish or pan
Cloths
Water
Salt
Lemon juice
Mesh scrubber
Rust can weaken metal, so to keep your cutlery in the best possible shape, remove any rust spots as soon as you notice them.
White Vinegar
Fill your shallow dish or pan with white vinegar. Do not add water.

Place the rusty cutlery in the vinegar, and let it soak for 30 minutes.

Wipe down each piece of cutlery with a damp cloth to remove any residual rust. Rinse with warm water to remove the vinegar, then dry well with a clean cloth.
Salt and Lemon Juice
Place the affected cutlery in a single layer in a shallow dish or pan. Sprinkle liberally with salt.

Pour lemon juice into the dish, enough to cover the cutlery. Let it sit for 2 hours.

Scrub the cutlery with a mesh scrubber to remove all of the rust. Rinse well with warm water, and dry with a clean cloth.
Check out this related video from Homesteady on Youtube.
References
Writer Bio
Jess Jones worked for a real estate broker in both listing, assessing, and helping to flip residential properties for several years while attending graduate school. After obtaining her own real estate license, she took a position working for a custom home builder. Jones worked closely with clients in finalizing plans, making specific selections for each new build, and helping to solve problems in the building process. She holds both a B.A. and an M.A. in English.
Photo Credits
cutlery image by Zbigniew Nowak from Fotolia.com
cutlery image by Zbigniew Nowak from Fotolia.com
More Articles