How to Clean Wearever Cookware
WearEver Cookware can enhance the appearance of your kitchen enhance ease of cooking, and cleaning, with its durable nonstick surfaces. With proper care and cleaning, this cookware will last for years. It's easy to clean WearEver Cookware if you know how.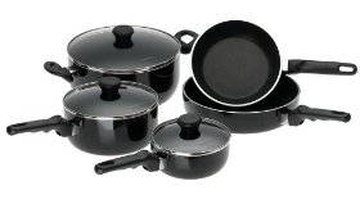 Things You Will Need
Soft, clean cloth or sponge
Dish soap
Clean dry towel
Baking soda
Fabric softener sheet
Wash the cookware with warm soapy water and a soft clean cloth or sponge. Use a mild grease cutting dish soap such as Dawn. Grease and food will loosen if you soak the cookware in the warm soapy water first.

Be sure to dry the cookware thoroughly to avoid bacterial growth or rust.

Rinse the cookware as soon as you are finished cooking with it. If you have time, wash it out as soon as possible to make it easier to clean.

Make a paste from baking soda and water and use it to gently scrub stubborn areas where food is stuck onto it. If this doesn't work immediately work the paste over the area well and allow it to sit for 10 to 15 minutes before wiping it away with a soft clean cloth or sponge.

Fill a pot or pan with stubborn stuck on food with hot water. Place a fabric softener sheet in the water and leave it overnight. In the morning, the cookware will be much easier to clean.

Warning

Avoid using harsh chemicals and abrasives that may scratch and damage the cookware.
Warnings
Avoid using harsh chemicals and abrasives that may scratch and damage the cookware.
Writer Bio
Melynda Sorrels spent 10 years in the military working in different capacities of the medical field, including dental assisting, health services administration, decontamination and urgent medical care. Awarded the National Guardsman's Medal for Lifesaving efforts in 2002, Sorrels was also a nominee for a Red Cross Award and a certified EMT-B for four years.
Photo Credits
http://ecx.images-amazon.com/images/I/41KJJKWWEJL._SL500_AA280_.jpg
http://ecx.images-amazon.com/images/I/41KJJKWWEJL._SL500_AA280_.jpg
More Articles