How To Stop Kitchen Chair Pads From Slipping
Chairpads that won't stay in place are an unnecessary annoyance. It is annoying when a chair pad slides to the floor when you stand and can be even more annoying when the pad slips out from under you when you sit. Preventing a chair pad from falling out of place keeps the pads clean and the chair comfortable. You can anchor the pad in place without damaging the pad or the chair.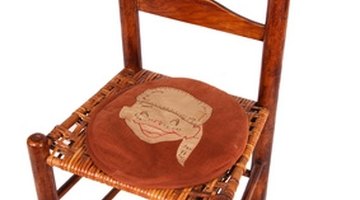 Place the cushion on the chair. Use pins to mark the spots on the edge of the cushion where it touches the vertical bars on the back of the chair.

Cut two, 10-inch lengths of ribbon. Cut the ends of the ribbon at an angle so they willl not unravel. Choose ribbon that matches the color of the chair cushion.

Sew the center of the ribbon to the edges of the cushion in the places marked with a pin. Use heavy upholstery thread to sew on securely.

Place the cushion on the chair.

Tie the ribbons around the bars of the back of the chair.
Tips
Use bias or twill tape instead of ribbon.
Use short strips of folded fabric with velcro sewn on the ends instead of ribbon for a more tailored look.
Place a piece of non-slip shelf liner between the chair and the cushion. This will keep the cushion from moving and pulling the ties loose. Cut the liner slightly smaller than the cushion so it will not show.
Writer Bio
Camela Bryan's first published article appeared in "Welcome Home" magazine in 1993. She wrote and published SAT preparation worksheets and is also a professional seamstress who has worked for a children's theater as a costume designer and in her own heirloom-sewing business. Bryan has a Bachelor of Science in chemical engineering from the University of Florida.
Photo Credits
Child's Chair With Cushion image by Scott Williams from Fotolia.com
More Articles