How to Remove Wax Coating From Porcelain Tiles
Many manufacturers, especially those in China, apply a thin wax coating to porcelain tiles before shipping. The wax coating protects the tile's surface from mars and scratches during shipping as well as during installation. The wax coating creates a dull, muddy surface on the tile and may interfere with sealing products. Wax-stripping products remove most wax coatings, although an alkaline solvent product may be required for heat-hardened wax.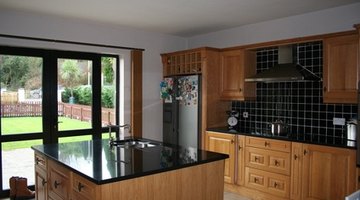 Pour a small amount of wax stripper on the tile after installation for easiest wax removal.

Scrub the tile with a poultice or nylon emulsifying pad.

Rinse with water and a clean cloth.

Repeat the process if necessary to remove all signs of the wax coating.
References
Tips
Wax strippers are available at tile and home stores and are made specifically for stripping the wax coating on porcelain tiles. They are fairly mild and easy to use. Start with one of these products before trying a stronger cleaner.
Warnings
Try a sealer and coating remover for tough-to-remove wax, but use care. These products are solvents, requiring ventilation and protective clothing. They also may darken the tile surface or leave an oily residue. Test the product on a leftover tile before applying to the entire surface.
Writer Bio
Julie Christensen is a food writer, caterer, and mom-chef. She's the creator of MarmaladeMom.org, dedicated to family fun and delicious food, and released a book titled "More Than Pot Roast: Fast, Fresh Slow Cooker Recipes."
Photo Credits
More Articles