How to Clean a Viking Grill
The Viking Range Corporation expanded its success in the professional-grade appliance market to outdoor cooking elements. Viking added outdoor grills to its product line in 1997, featuring porcelain and stainless steel cooking surfaces. According to the manufacturer, "Any piece of equipment will last longer and maintain proper operation when it is cared for and cleaned properly." Clean burners and porcelain grates after each use to ensure proper performance. Porcelain and stainless steel easily mar when scraped aggressively with an abrasive pad or cleaning surfactant. Abide by the manufacturer's cleaning instructions for a less invasive method.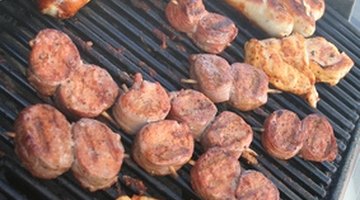 Close the grill. Turn the control knob on the front of the grill to "High." The heat cooks debris off the burners. Allow the grill to heat for 5 minutes. Open the grill top.

Place a bowl of water next to the grill. Since the grill remains on, keep the bowl away from the heat source and wear an oven or barbecue mitt.

Turn each knob to the "Off" position. The surface remains hot for a short time.

Scrub the porcelain grate with a barbecue brush, dipping it frequently in the bowl of water to remove debris. The water creates steam, which aids cleaning. Allow the surface to cool for approximately 20 minutes.

Prepare a solution of liquid dish detergent and hot water. Mix it in a bucket or tray large enough for the grate.

Remove the porcelain grate and flavor plates. Lift the grate up and pull it towards you. Repeat the process with the flavor plate, which sits directly below the grate. Place the grate and flavor plate in the bucket.

Test the grates. After 15 minutes, gently scrape the grates with a soft cloth. If debris easily comes off, remove the grates and plate. If debris clings, soak for another 15 minutes.

Wipe excess grease from the surface of the burners with a soft cloth.

Remove grates and plate from the soapy water. Scrub gently with a scouring pad. Use Teflon®. A steel wool or Brillo pad permanently scratches the surface. Rinse and dry the surfaces. Replace plate and grates.

Wipe knobs and painted parts with a soft cloth or sponge dipped in mild detergent. Polish with a soft clean cloth.
References
Tips
Choose a barbecue brush with brass or stainless steel bristles, available from professional shops or from Viking. Plastic bristles melt when heated. Use plastic brushes for applying sauce to the food instead.
Photo Credits
Grill image by Zeit4men from Fotolia.com
une feuille morte image by Francis Lempérière from Fotolia.com
barbecue set image by Aleksandr Lobanov from Fotolia.com
wind up timer at 15 minutes image by Andrew Brown from Fotolia.com
a gas burner. image by Saskia Massink from Fotolia.com
More Articles